RSS Feeds
RSS feeds can deliver the latest InfoLab21 news and events direct to your browser without you having to visit the website.
In most browsers you can click on an RSS link and choose to subscribe to the feed to add it to your favourites or bookmarks.
---
InfoLab21 & Daresbury SIC Networking Event
Saturday 07 November 2009, 1100-1300
Room C74, InfoLab21, Lancaster University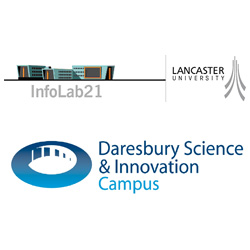 Event Overview
InfoLab21 and is hosting a networking event on the 7th of November to include members of its own resident company community, companies from Daresbury Science & Innovation Campus (SIC) and also representatives from InfoLab21's associate network of companies using or developing advanced Information & Communications Technologies (ICT).
Like Lancaster University's InfoLab21, Daresbury SIC provides incubation facilities and business support services to Digital/ICT businesses and both organisations have recognised the value of networking activities to help support the growth of these businesses - through the identification of business development opportunities, sourcing of business-critical expertise or developing collaborative routes to market. At this event representatives from both establishments will come together to create new collaborative opportunities.
Event Schedule
11.00 Introduction
11.10 Presentation from Depts of Computing Science & Communication Systems
11.15 Presentation from Computational Science and Engineering Group
11.20 Company pitches
12.15 Lunch
The event will start at 11am with an introduction from Steve Riches; Director of the Knowledge Business Centre (KBC) at Infolab21 followed by a short presentation from Prof. David Hutchison; Director of InfoLab21 on the University's Departments of Computing Science and Communication Systems. Representatives from Daresbury SIC will give an overview of their Computational Science and Engineering Group and then we will move on to the main content of the event where all the attending companies will be able to give a two minute elevator pitch to cover the following points:
Who you are?
What is your business?
What you have to offer other Digital/ICT companies?
What do you need from other Digital/ICT companies?
These short presentations and pitches will run through to around 12.15 when a buffet lunch will be served giving opportunities to network up until around 1.30.
Pre-event Information on Companies Attending
In order to promote the event in the best way possible and encourage networking at the event we are publicising the details of all registerred attendees ahead of the event itself. Our intention is that attendees can pre-research who else is attending the event and then, following the "elevator pitches" (See event schedule) directly seek out those people they want to meet with. This is a formula Daresbury has used to great success at its monthly breakfast briefings as it allows all attendees to get the best possible use out of the meeting.
Current Attendees Registered
Attending the Event
Please note that attendance at this event is by invitation only and the list of attendees will close on Monday November 5th. If you would be interested in attending and would like to discuss a possible invitation please contact Nick King n.king@lancaster.ac.uk 01524 510447, Knowledge Business Centre, InfoLab21
Transport & Location
For those companies from Daresbury SIC, transport will be available for those companies who are interested. If you are making your own way there then please go the link at the bottom of the page for directions.