RSS Feeds
RSS feeds can deliver the latest InfoLab21 news and events direct to your browser without you having to visit the website.
In most browsers you can click on an RSS link and choose to subscribe to the feed to add it to your favourites or bookmarks.
---
Technology Matters Event - Commercialising Research
Thursday 07 December 2006, 0900-1200
Room C74, InfoLab21, Lancaster University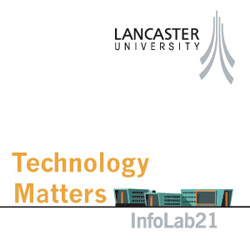 Register now to attend our December '06 Technology Matters Event where we will have speakers from the University's Computing and Communications Systems Departments and representatives from the Private Sector discussing how they have worked together to commercialise academic research to produce viable commercial products. This event will be of interest to members of academic community and private sector alike and is a great opportunity to see the tangible results of collaboration between the academic community at InfoLab21 and regional business.
Firefly: Let there be light!
As part of its ongoing research initiative in ubiquitous and embedded computing, the Computing department has been developing a radically new display technology, codenamed Firefly. The Firefly concept is simple: Imagine a small light bulb. Augment it with a tiny networked computer able to control that light. Now multiply by ten thousand, and add in the ability to locate each light anywhere in 3D space with centimetre level accuracy. The result is a highly flexible, configurable and remarkably cost effective display technology, capable of rendering moving 2D or 3D images in real-time with remarkable results.
This short session will introduce the concepts behind the technology, highlight its potential and provide a demonstration of its effectiveness.
Reuben Edwards: Commercialising Novel Applications for Mobile Phones
This talk will explore the unique challenges faced when developing software for mobile phones. Whilst mobile phones are unique in their global ubiquity as a computing device, there exists a wide and varied variety of platforms and device configurations which pose serious challenges to software developers.
This talk will describe how Infolab21's unique and internationally leading expertise in mobile software development was leveraged to develop the commercial application Amigo (http://www.amigoview.com).
The talk shall include:
An introduction to Paul Coulton and Reuben Edwards who are leading international experts in mobile software development, and co-authors of the forthcoming book on programming Nokia smartphones: A Tutorial Guide; (http://eu.wiley.com/WileyCDA/WileyTitle/productCd-0470027657.html);
The philosophy behind the commercial exploitation of their research (recently described in the ITALICS e-journal http://www.ics.heacademy.ac.uk/italics/vol5iss3.htm)
The challenges of developing a cutting edge mobile application for mass-market devices;
The success that can be achieved by combining research objectives with commercial objectives.
Mars IT
Introductions - Who are Mars IT Solutions.
Meeting the University - How Mars IT Solutions became aware of InfoLab21 and M-Ventions.
Seeing the Opportunity - What Mars IT Solutions saw of value that made them think a collaborative commercial venture would be viable.
Commercial collaboration - Working with the University and M-Ventions to create Amigo.
The Future - Locating at the future for Mars IT Solutions and InfoLab21.
Download a Flyer For This Event
To register please contact Sarah Maginness s.maginness@lancaster.ac.uk