RSS Feeds
RSS feeds can deliver the latest InfoLab21 news and events direct to your browser without you having to visit the website.
In most browsers you can click on an RSS link and choose to subscribe to the feed to add it to your favourites or bookmarks.
---
Technology Matters Event
Sunday 14 June 2009, 0900-1200
Room C74, InfoLab21, Lancaster University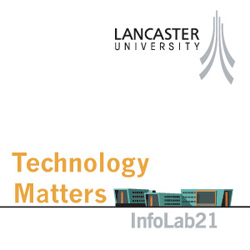 The Innovation Exchange
Sponsored by CLB Coopers
At our next Technology Matters event, we will showcase areas of research from the Computing Science and Communication Systems departments and the Knowledge Business Centre at InfoLab21. We will have demonstrations by research groups highlighting new areas of technology and possible areas of commercial application.
This Technology Matters event is "Invitation Only" but if you have an interest in the research here at InfoLab21 and specifically may be looking to explore the commercialisation of new areas of technology, please contact Nick or Colin
The projects being showcased include:
VoodooIO
The VoodooIO project has developed a technology for computer control that allows users to define, construct and modify the controls themselves to suit their individual requirements and personal preferences. Simply cut out the shape of the device you want out of a flexible material, then arrange buttons, dials, sliders and joysticks on its surface to create tailor-made flight-simulator cockpits, custom music-production studios, or personalized remote-controls for home entertainment.
Sensor Networks for Time Critical Applications
Existing sensor network installations have in common that they are not considered time critical. No immediate action has to be undertaken as a response to the received data. However,many future application areas of wireless sensor networks such as plant automation and control, traffic management or medical applications require this feature. In such environments, data has to be transported in time through the sensor network. Due to the lack of appropriate models, components and protocols it is currently very difficult to construct and operate a wireless sensor network with a controlled performance. Thus, the commercial success of wireless sensor networks in many application areas is unsure unless this particular problem is understood and solved.
RelateGateway, Spontaneous mobile interaction with pervasive services
One of the early visions of ubiquitous computing was to enable mobile users to spontaneously use available pervasive services. While current discovery mechanisms facilitate network-level connections, it remains quite difficult for users to identify available services then configure and consume them. To enable spontaneous mobile interactions with pervasive services we propose the end-to-end discovery model (Figure 1) and its implementation in the RelateGateways Architecture, enabling the rapid prototyping of spontaneous environments.
Firefly
Fairy lights with an embedded tiny computer, creating the next generation of fairy lights. This innovation will potentially revolutionise lighting displays like the Blackpool Illuminations and have great potential for advertisers. Patterns and effects are much easier to implement and can be far more complicated than those that are available at the moment. In addition, the lights requre fewer cables, which makes deployment of the lighting array much easier.
PremiershipLive
A distributed application that serves as a portal for football fans to view online content such as videos, fixtures and news, and share and search information including fan-provided content.
Locoblog
The portability and connectivity inherent in mobile phone technology opens up the possibility for users to blog on the move. Using a GPS receiver, or positional data derived through other means, such as GSM Cell/Area ID, the user can relay information about their whereabouts alongside regular blog information (images, text etc.). This enables them (as well as others if permitted) to track when and where they submitted their blog entries and gives entries greater context.
Nemo
The focal point of this project is the development and use of smart artefacts, i.e. work-related objects such as tools and containers augmented with embedded computing, sensing and wireless communication capabilities.
View the NEMO video on our website
AOSD (Aspect-Oriented Software Development)
A new software development approach which supports systematic identification, modularisation, representation and composition of crosscutting concerns such as security, mobility, distribution and resource management.
Door Plates
Forty interactive door displays have been deployed in InfoLab21 as part of the Hermes 2 project. Aims of this work include exploration of areas such as awareness and coordination: for example, the door displays allow a visitor to an office to leave a video message which is then sent to the absent occupant's mobile phone as an MMS message.
Next Generation Middleware Group
Following their key developments in Middleware Research such as the emergence of distributed object technology (e.g. CORBA) and component-based services (.NET, EJB, etc), the group has pioneered reflective middleware as a principled means of supporting both customisation and dynamic re-configuration of middleware platforms and associated services. The group also investigates the use of systems-level component technologies, and the associated concept of component frameworks, in the construction of open middleware solutions.
Multimedia Copyright Protection
Data-hiding is widely used for copyright protection (digital watermarking), where a logo or signature of the author is placed in the digital media (text, audio, image, video) to mark the original, and cannot be removed without destroying the media data. The main challenge is to avoid noticeable difference between the media after and before introducing the watermark.
Power-aware communications over wireless sensor networks
This project designs a wireless sensor network for monitoring and controlling, that efficiently addresses the following requirements: (i) Fault tolerance in the presence of individual node/sensor failure, (ii) Reliability and accuracy of the sensed data, (iii) Power efficiency, (iv) Occupied bandwidth since other devices, systems, and services should coexist, (v) Node density, (vi) Cost. We resort to a short-range wireless communication strategy that is fast and easy to install, with low-risk of interference with other systems and devices.
Sensor Data Processing, Objects Detection, Tracking, Classification and Decision Making in Sensor Networks
This research is concerned with the development of advanced real-time methods for efficient sensor data processing: data fusion, system monitoring and decision making. The particular interest is in nonlinear system dynamics under measurement and environment uncertainties. Typical applications are intelligent transportation systems, monitoring, and surveillance systems.
Water Sensors and Flood Prediction
This project is developing a wireless sensor network that doubles as a light-weight computational Grid, which allows us to move flood-modelling functionality out of the Lab and onto the sensor nodes themselves. This allows us to support diverse sensors, provide more timely warnings and adapt to predicted conditions.
Exploiting Mesh Networks to Bridge The Digital Divide
In rural areas that are fortunate enough to have a broadband internet service, it typically does not match the high bandwidth and low latency standards experienced by their urban counterparts. Recent advances in wireless network communications has seen the development of Wireless Mesh networks, a technology providing a complete wireless infrastructure solution allowing the provision of network services into locations where there is currently little or no infrastructure
The Sampling Lens
Information visualisations frequently have to deal with large amounts of data and this often leads to saturated areas in the display with considerable overplotting. The Sampling Lens is a novel tool that uses random sampling to reduce the clutter within a moveable region, allowing the user to uncover any potentially interesting patterns and trends in the data while still being able to view the sample in context.
Tiltracer
3D Stereographic Camera
More soon
METALuCID(r) - Metal encapsulated RFID
The benefits of RFID are well documented and in some harsh environments a sealed metal-encapsulated chip and antenna is the only option. However, a completely metal enclosure should stop the RFID antenna working due to the Faraday Cage effect. This problem has been overcome and a solution for tagging surgical instruments will be demonstrated.