RSS Feeds
RSS feeds can deliver the latest InfoLab21 news and events direct to your browser without you having to visit the website.
In most browsers you can click on an RSS link and choose to subscribe to the feed to add it to your favourites or bookmarks.
---
Technology Matters Event
Wednesday 05 September 2007, 0900-1200
Room C74, InfoLab21, Lancaster University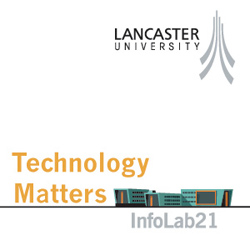 Financing Innovation in SMEs
Schedule:
9:00am - Registration Tea and Coffee
9:30am - Introduction (10 mins)
9.40am - Presentation 1 (45 mins)
10.25am - Refreshments Break (20 mins)
10.45am - Presentation 2 (45 mins)
11.30am - Close (5 mins)
11.35am - 12.00 Networking
Presentation 1: R&D Tax Relief/Credits
Anthony Cox and Rebecca Murdoch Corporate Tax Compliance Tax and People Services - KPMG LLP (UK).
KPMG will be presenting on all aspects of claiming for R&D tax relief with a specific focus on will focus on the rules for research and development tax credits, highlighting how the relief can be applied to those in the ICT sector.
The definition of Research and Development ("R&D") for tax purposes is wider than most businesses realise and offers considerable opportunities to secure additional tax benefits. After all, the majority of companies carry out some form of R&D, even if they don't think of it strictly in those terms. The current definition covers both pure and applied research, as well as product development activities where there is an advance in science or technology. Many businesses could be wasting valuable tax relief opportunities by not making effective claims for R&D tax relief so if you'd like to find what tax relief you might be eligible for please do register for our September 5th event.
Presentation 2: NWDA Business Finance Solutions
Clive Grunsell - Head of Grants for R&D - Northwest Regional Development Agency
The NWDA manages and funds a number of business finance solutions designed to help businesses in the region to start up and grow. At our September 5th event Clive will be giving an overview of these solutions including grant schemes (Capital Investment Grants, Grants for Research and Development) where money is given to a new or existing business for a specific project, as well as a number of loans and investment schemes (Equity Finance, Business Angels and Small Business Loans) where the money is repayable when the company has income, profits or shares are sold.
Registration
To register for Technology event please email Sarah Maginness s.maginness@lancaster.ac.uk