RSS Feeds
RSS feeds can deliver the latest InfoLab21 news and events direct to your browser without you having to visit the website.
In most browsers you can click on an RSS link and choose to subscribe to the feed to add it to your favourites or bookmarks.
---
ISIS Programme Recommended By Northwest Firm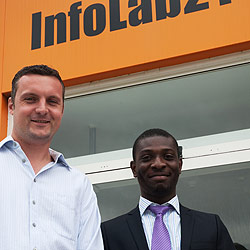 A Lancashire company have recommended working with InfoLab21 to other SMEs following the successful completion of their 'revolutionising' web application which they recieved through the InfoLab21 Strategic Innovation Support (ISIS) programme.
Safety Management UK (SMUK) are based in Burton-in-Kendal and carry out fire risk assessments and fire safety training on a national level.
Initially SMUK Managing Director, Brian Gregory spoke to the InfoLab21 Business Development Team to see if they were eligible and find out more about ISIS.
Ben Yates at SMUK described the next stages of the process;
"We then met with InfoLab21's team of specialist ICT consultants and talked about our problem in-depth. We agreed an action plan for InfoLab21 to develop a new web-based application to allow our fire risk assessors to complete assessments online, in real time and on site, making the process as streamlined and automated as possible and bringing together the whole process within one system.
"We were presented with several recommended options to choose from, chose one and worked with the InfoLab21 team, who developed and refined the web-based application for us."
The application was built by Sanmi Gbadegesin, a Project Associate in the InfoLab21 Graduate Academy (IGA).
Sanmi joined the IGA in 2009 to gain experience with a range of companies and develop his ICT skills. Sanmi was chosen to work on this web tool development project to develop his programming, database and web development skills and he also had the help of his technical advisor when he needed it.
Sanmi said,
"The best thing about doing this project was the satisfaction and feedback I got from the client. Representatives of the company said they were pleased with the solution because of the good quality. I am happy that the client is happy."
Ben Yates confirmed,
"This technology has revolutionised the administration process and saved valuable time. Reducing the duration of assessments has enabled our fire risk assessors to carry out more assessments over time which will ultimately result in cost savings for our customers."
"The system has also improved best practice across the company by sharing feedback and expertise."
"We are very happy with the system and would recommend other SMEs work with InfoLab21."
For the full case study from Ben's and from Sanmi's perspectives please see the documents below.
ISIS is the first project of its kind in the UK and is delivered under the "Transformational ICT" product, part of the Government's Solutions for Business portfolio, a highly targeted, publically funded suit of products and services offering solutions to real business needs. For more information please go to the ISIS link below.
Tue 31 August 2010
Associated Links
ISIS - InfoLab21's Strategic Innovation Support Programme (ISIS) aims to raise levels of ICT investment across the region by providing objective advice, guidance and appropriate ICT solutions to SMEs
ISIS Case Study - Sanmi - An IGA Intern's perspective
ISIS Case Study - SMUK - A company's perspective
Tweet