RSS Feeds
RSS feeds can deliver the latest InfoLab21 news and events direct to your browser without you having to visit the website.
In most browsers you can click on an RSS link and choose to subscribe to the feed to add it to your favourites or bookmarks.
---
Pupils Build Virtual Cities at InfoLab21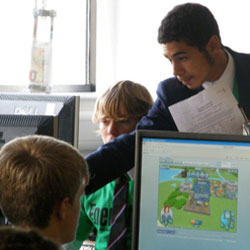 Pupils from local schools competed to build the most energy efficient virtual city in an online competition held at InfoLab21.
Enercities, an online gaming platform, allows competitors to create and expand a virtual city taking into account pollution, energy shortages, renewable energy etc. The game aims to challenge participant's attitudes to energy consumption and raise awareness of renewable energy sources.
Teams from Lancaster Girls Grammar School, Ripley St Thomas High School, Central High School and Lancaster and Morecambe College competed in the online competition to win renewable energy resource kits for their school.
Teams, and the European partners involved in the Enercities project also enjoyed a tour of the engineering facilities at Lancaster University and a talk by the Environment Centre.
Colin McLaughlin Technology Transfer Manager at InfoLab21, said,
"We were very happy to host the Enercities event and to see how the children engaged with the concept of energy sustainability through a game as part of the learning process. We were impressed with the knowledge and positive attitude of all the pupils, everyone involved had a great day and we look forward to running more events like this with Lancaster and Morecambe College in the future."
Ripley St Thomas High School were victorious on the day, with Brandon Clarke taking the prize for best individual score; a hydrogen Powered Remote control Car and a £50 High street voucher. The Ripley team also took the prize for best overall school score. Prizes were awarded by David Wood, Principal Lancaster & Morecambe College.
The Enercities game is part of a collaborative project designed and led by Dutch games development companies together with a Dutch vocational college. Enercities represents an integrated Intelligent Energy Education initiative. Lancaster & Morecambe College are the sole UK partners to this 3 year project which hopes to show a shift in energy-aware attitudes and behaviours of youngsters (and teachers) through the usage of the serious gaming platform and related education materials. In this sense, Enercities offers a unique and innovative approach to boost energy saving behaviours of young people and teachers across Europe.
John Latham, Enercities Project Manager at Lancaster and Morecambe College said
"We are grateful to InfoLab21 and Lancaster University for supporting this competition as they provided the ideal setting for the game, housing InfoLab21, Northwest Centre of Excellence for ICT, and a world renowned Environment Centre and Centre for Sustainable Energy."
"We look forward to working with our local schools to raise awareness of sustainable best practice and increase the energy awareness of their students."
Following the success of this event, online virtual competitions will take place starting January 17th 2011, March 14th 2011 (EU Energy Week), and May 9th 2011. These week long competitions are open to all with prizes for the best scores. Take part by visiting www.enercities.eu.
Tue 30 November 2010
Associated Links
Tweet