RSS Feeds
RSS feeds can deliver the latest InfoLab21 news and events direct to your browser without you having to visit the website.
In most browsers you can click on an RSS link and choose to subscribe to the feed to add it to your favourites or bookmarks.
---
iPhone App Development Day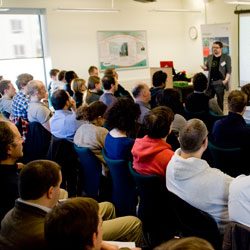 Local businesses joined students during Global Entrepreneurship Week for an iPhone App Development Day with Lancaster University's mobile experts Dr Reuben Edwards and Dr Paul Coulton.
Both experts said that though Apple only account for 2% of the smartphne market, money making opportunities in mobile development were with iPhone Apps as they represent an impressive 98% of downloaded Apps, largely due to the success of Apple's iTunes. However with over 300,000 Apps currently available Dr Edwards stressed that it might take a lot of hard work and luck to get your App noticed!
Following an introduction to Mobile App Development by Dr Edwards, delegates chose their afternoon activity from either User Experience Design with Dr Coulton or a more Technical approach with Dr Edwards including presentations from students already working on their Apps.
The event was a sell-out success with positive Feedback from both students and businesses.
"The workshop gave me some valuable insight into the user experience design and the code crunching involved in making and marketing a successful App. It also presented an excellent opportunity to mingle and share ideas with the young entrepreneurs that Lancaster University is ndeavouring to produce." Cary Corse, Web Developer and Programmer, Caboodlebox.
The event was jointly run by ISTEP (InfoLab21 Strategic Technology Exploitation Programme) and the HE Enterprise Champion Project for Global Entrepreneurship Week.
Tue 30 November 2010
Tweet