RSS Feeds
RSS feeds can deliver the latest InfoLab21 news and events direct to your browser without you having to visit the website.
In most browsers you can click on an RSS link and choose to subscribe to the feed to add it to your favourites or bookmarks.
---
Kinetic Cubed Helps Uganda's Universities To Internationalise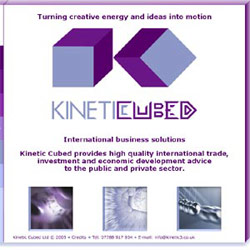 A resident company of InfoLab21 is helping Uganda's Universities to Internationalise.
Mark Beresford of Kinetic Cubed is working with Keith Hermann of Higher Ed Research on a project which is looking at helping Uganda build their capacity, capability and competitiveness. The project is sponsored by the Commonwealth Secretariat, an organisation which Mark has been working with over the past seven or eight years on different projects across the world - in Cyprus, Guyana, Malaysia to name about few. Keith has already made a first trip to Uganda to meet key players and a local consultant, Dr. Geoffrey Bakunda.
Keith made a second visit in December to report on the findings of the work at a conference entitled Marketing Uganda Higher Education in the East Africa and COMESA Regions to be held 14th - 16th December 2010 in Entebbe. The Uganda Export Promotion Board (UEPB) and the Commonwealth Secretariat is hosting this national symposium with Uganda's universities to discuss strategies and policies for recruiting more international students to study in Uganda from the East Africa and COMESA regions.
For more information, please call Mark Beresford on 07788917931, or email him on mberesford@kinetic3.co.uk.
Tue 21 December 2010
Tweet