RSS Feeds
RSS feeds can deliver the latest InfoLab21 news and events direct to your browser without you having to visit the website.
In most browsers you can click on an RSS link and choose to subscribe to the feed to add it to your favourites or bookmarks.
---
Interest Builds In Mobile App for Visually Impaired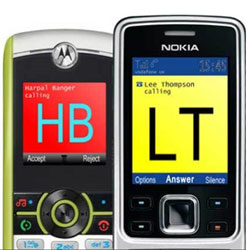 A company who have developed software to help visually impaired people see who is calling them on their mobiles, have been experiencing a high level of interest since attending the Mobile World Conference.
ClearCaller Ltd, a northwest company who have worked with InfoLab21 throught the ISTEP project, was set up by couple Simon and Dena Marks after Simon invented the system to help Dena read her phone following a cataract operation.
The company is also working with technology partner and former InfoLab21 student Garry Partington.
Simon and Dena attended the Mobile World Congress (MWC) in Barcelona (14-17 February) and have been featured in various news articles including the interview linked to below with the BBC's Jane Wakefield.
Simon said,
"ClearCaller Ltd had an excellent week with MWC providing an unbelievable platform from which to launch C-CallerID. We had some wonderful publicity that has admittedly yet to bear fruit in terms of visits to our website and sales, but then we have only been live for a few days."
Simon is keen to hear what you think of the product. He says,
"Don't forget you can install C-CallerID for other people remotely, and the website has a demo showing how the process works. We would really appreciate any feedback you may have."
ClearCaller will not currently work on iPhone or Android as they lack the JVM to run Java J2ME but it will run on most other phones, the key criteria being WAP capability and contact photo functionality.
Mon 28 February 2011
Tweet