RSS Feeds
RSS feeds can deliver the latest InfoLab21 news and events direct to your browser without you having to visit the website.
In most browsers you can click on an RSS link and choose to subscribe to the feed to add it to your favourites or bookmarks.
---
Event Reveals New Insights Into Businesses' Cyber Security Concerns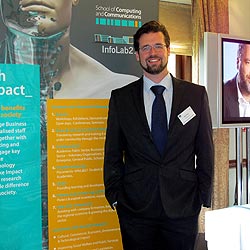 Around 70 delegates attended the Cyber Security Conference 2011 this month.
Delegates were from a range of industries from across the UK, some technology focused and some that utilise technology for everyday business. The conference included a range of expert speakers from industry such as Get Safe Online, the UK's national internet security awareness initiative, in addition to academic specialists from Psychology, Law, Politics and the School of Computing and Communications who are all involved with the University's multi-disciplinary Masters Degree in Cyber Security. The conference provided delegates with the latest information on cyber security from across these different approaches and gave them an opportunity to voice their concerns and seek expert advice.
Key Concerns
The skills and education gap in cyber security was highlighted as a key concern. Dr Daniel Prince, Course Director for the MSc in Cyber Security, and one of the conferences organisers said "It is vital that we take a fresh, multi-disciplinary approach to information security. We must work closely with industry in order to educate the next generation of security professionals with the skills that are required by the sector."
While awareness of the issues and threats around spam email and accessing the internet was felt to be getting better, a key concern was the increase in directed 'spear phishing' attacks that utilise social engineering techniques, making them much harder for an individual to detect and often resulting in a much more significant loss of personal or corporate data.
Another key problem facing the sector highlighted by the conference is the increasing cost of compliance to regulations designed to protect consumer information such as PCI-DSS. The sophistication and complexity of attacks on digital technologies are set to increase; however, it is becoming increasingly complicated for small businesses to understand the rules and regulations that are being put in place by standards bodies and governments to protect consumer data.
A growing challenge for SMEs
Cyber Security is a growing challenge facing businesses across the country, particularly for Small and Medium Enterprises (SMEs) which have limited budgets to tackle information security.
According to the 2010 report by PWC on information security breaches, commissioned by Infosecurity Europe, small organisations (under 50 staff) have faced a disproportionate increase in security incidents when compared to large companies. The report shows the percentage of small organisations reporting security incidents and the average number of incidents per company has nearly doubled over the last two years with this trend set to increase. More worryingly, the maximum cost of a small organisation's worst security incident of the year has nearly tripled, from between £10k-£20k to £27.5-£55k.
To respond to this threat and raise awareness of cyber security issues, the School of Computing and Communications, based in InfoLab21, partnered with the ICT Knowledge Transfer Network to organise the Cyber Security Conference 2011 for SMEs, the first such KTN event of its kind in the Northwest. Tony Dyhouse from the ICT KTN explained, "As a large proportion of UK wealth is derived from the a vast range of SMEs, it is essential that the ICT KTN reaches this sector and assists them to make informed decisions in the ICT field, including Cyber Security. One of the best routes to address SMEs is through academia. InfoLab21 at Lancaster University provides an excellent route to technology-based SMEs. We were therefore delighted to partner with them to deliver The Cyber Security Conference 2011. This event was an outstanding success and we look forward to repeating it next year."
Follow up
Much of the event has been recorded and the presentations are available online at www.lancaster.ac.uk/ictfocus/csc/.
If you would like to get involved in collaborating in research in the area of Cyber Security, or are interested in contributing to or enrolling on, the MSc in Cyber Security, please contact Dr Daniel Prince. (Tel: +44(0) 1524 510432), or join the Cyber Security Focus group on LinkedIn. Or you can leave a comment below.
To find out about other events and services for business available from InfoLab21, or contact Colin McLaughlin, Technology Transfer Manager, (Tel: +44 (0)1524 510443), or follow us on twitter for updates.
Thu 29 September 2011
Associated Links
CSC2011 - 2011 Conference website with presentations, videos and photo gallery
ICT-KTN - ICT Knowledge Transfer Network
School of Computing and Communications - a multi-million pound centre for study and research in the fields of computer science, ICT and communications engineering
Tweet