RSS Feeds
RSS feeds can deliver the latest InfoLab21 news and events direct to your browser without you having to visit the website.
In most browsers you can click on an RSS link and choose to subscribe to the feed to add it to your favourites or bookmarks.
---
Lancaster Student is UK Winner of Global Digital Forensics Challenge
Story supplied by LU Press Office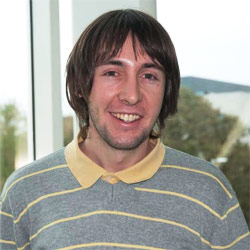 A computer science student from Lancaster University has become the UK winner of a global digital forensics competition.
The DC3 Digital Forensics Challenge is designed and hosted by the US Department of Defense Cyber Crime Center (DC3) as part of the Cyber Security Challenge UK.
The UK winner was Christopher Richardson who is studying for a PhD in intrusion detection systems at the School of Computing and Communications at InfoLab21.
He was also ranked ninth internationally among over seventeen hundred competitors from fifty two countries.
The Challenge was designed to test the ability of competitors to extract and scrutinise data to solve a simulated cyber crime.
He said: "It was difficult in parts but really enjoyable. I have always had an interest in a wide range of security areas both inside and outside of my academic speciality and this competition gave me a platform to test my skills on practical problems with real world relevance. After getting stuck a couple of times, I didn't think I had done that well, but to win the UK stream and do so well across the whole competition feels great."
Christopher will receive £2,000 of security training from 7Safe as a reward for his efforts, which have also earned him a place in the UK Cyber Security Challenge UK's face-to-face play-offs next year.
Dr Daniel Prince, Course Director for the MSC in Cyber Security at Lancaster University, said he was delighted with Christopher's success.
"Lancaster is a strong supporter of the Cyber Security Challenge and we are looking at ways that we can support the important work they are doing to inspire more talented people to choose cyber security as a profession."
The Cyber Security Challenge UK is designed to unearth fresh sources of cyber security talent from people not already working in the industry. The initiative is supported by the UK government, universities and high tech firms.
Jim Christy, Director of Futures Exploration at the US Department of Defense Cyber Crime Center, said: "The success of the DC3 Digital Forensic Challenge over the past six years has demonstrated that the talent is out there, and the success of Christopher and his fellow countrymen suggests the UK has a similarly untapped community of highly competent individuals who can fill these critical, low density, high demand jobs."
Tue 20 December 2011
Tweet