RSS Feeds
RSS feeds can deliver the latest InfoLab21 news and events direct to your browser without you having to visit the website.
In most browsers you can click on an RSS link and choose to subscribe to the feed to add it to your favourites or bookmarks.
---
App of the Month: Graffito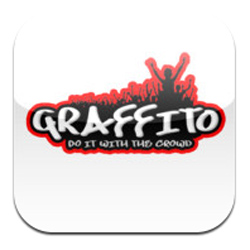 Inspired by the underground 80s hip hop scene, Graffito pays homage to guerrila street art and turns it into a celebration of pop culture on a massive scale.
Graffito is an experiment in massive crowd-made graffiti. Anyone online can join in to scribble graffiti using their iPad, iPhone or iPod Touch. You can paint at the same time, on the same canvas using your iPhone or iPad.
Graffito can also be used at events - see this article from its launch in 2010: Spin-out company launches crowd-made graffiti
"App of the Month" features some of the Apps to come out of InfoLab21's research and collaboration.
Tue 31 January 2012
Associated Links
Tweet