RSS Feeds
RSS feeds can deliver the latest InfoLab21 news and events direct to your browser without you having to visit the website.
In most browsers you can click on an RSS link and choose to subscribe to the feed to add it to your favourites or bookmarks.
---
Lancaster and Liverpool scientists to lead £9.8M eco-innovation centre
Story supplied by LU Press Office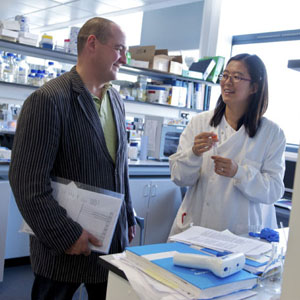 Scientists and knowledge exchange experts at Lancaster University and the University of Liverpool are set to lead a new global eco-innovation centre which will bolster the region's economy in key export markets and drive forward improvements in green technology and services.
The £9.8m Centre for Global Eco-innovation (CGE), led by Lancaster University in partnership with the University of Liverpool, is to receive £4.9m of funds from the European Regional Development Fund's North West operational programme to provide research and development expertise to hundreds of the region's companies which are working to find solutions to environmental problems.
The virtual centre, which was also developed in partnership with Inventya Ltd at the Daresbury Science and Innovation campus, will provide more than 285 regional companies with expert help to develop new, greener products and services resulting in significant savings in terms of greenhouse gas emissions, water, waste and energy.
Working with businesses across a range of sectors including chemicals, environmental technologies, digital and high value manufacturing, the centre aims to deliver a significant number of new jobs to the region making a measurable contribution to the region's economic recovery.
More than 50 graduates will be recruited between the two universities, who will work on a range of research and development projects in partnership with business. The graduates will use these collaborations as the basis of a PhD programme of study.
The centre will be formally launched in spring 2012 and the first cohort of 50 graduates will join the centre in October 2012 for three years. It will take a strong focus on international markets and a number of the graduates are anticipated to be recruited from overseas. The centre will recruit an initial cohort of 50 companies to work with these graduates by October 2012, with each company also making a financial contribution.
In addition to intensive three-year long collaborations, the centre will also work via Inventya Ltd to deliver a programme of business support for companies exploring the export market and a range of other opportunities for collaborative working with both of the universities.
Graduates and businesses can register interest now.
At Lancaster, the project will be directed by Dr Mark Bacon, Faculty Director for Business Partnerships and Enterprise in Science and Technology and Dion Williams, Head of Knowledge Exchange Support, and managed by Dr Ruth Alcock of Lancaster University's Environment Centre (LEC). The Lancaster-based graduates will be supervised by academics across LEC and other science and technology departments at Lancaster.
Dr Bacon welcomed this new development and said: "This is a very exciting development which is set to make a positive impact on our region's economic recovery.
We are now recruiting 50 science, technology and engineering graduates and 50 high-growth Small and Medium Enterprises to work to work with us on intensive three-year projects which will form the basis of a funded PhD programme of study and create new products, processes and services for the global marketplace that have positive environmental benefits."
Fri 24 February 2012
Tweet