RSS Feeds
RSS feeds can deliver the latest InfoLab21 news and events direct to your browser without you having to visit the website.
In most browsers you can click on an RSS link and choose to subscribe to the feed to add it to your favourites or bookmarks.
---
Lancaster University at the Big Bang 2012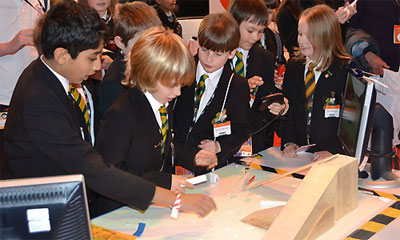 Science and Technology at Lancaster University engaged school pupils from all over the UK at the Big Bang Science Fair in Birmingham this month, with hands-on science and technology exhibits designed and run by Lancaster staff and students.
A record number of visitors attended the event, and the Lancaster stand was abuzz with interested students keen to try Lancaster's augmented reality computer game that allowed them to race virtual cars on a physical table top, and design and change the terrain of the race course as they played using wooden blocks. The game, based on Microsoft's Xbox Kinect technology, was developed by Highwire student John Hardy from the School of Computing and Communications, who was on hand to talk to pupils about his work.
Our Engineering Department gave visitors to Lancaster's stall the chance to compete to generate enough energy on a static bicycle to win a prize. The bike was linked to a modified leaf blower that blew a ball up a tube - the faster the children pedalled the higher up the tube the ball travelled. Another bikes was used to power various household electrical items, and pupils soon found out that powering a wii console or boiling a kettle was no easy task relying on pedal power.
Mathematics and Statistics provided the "Impossible" Hoopla, where visitors could try firsthand the seaside attraction from Blackpool Promenade and see if they could beat the odds of 1 in 2600, as calculated by Dr David Lucy, to win a Lancaster University teddy bear. This attraction proved hugely popular, and two lucky visitors walked away with a prize from an estimated 10,000 throws over our three days at the fair.
The Big Bang 2012 showcased activities from over 120 different organisations in the field of Science and Technology, and saw attendance increase dramatically on previous years. The final numbers for the event were a record breaking 56,287 visitirs over the three days - almost double that of The Big Bang Fair 2011!
Fri 23 March 2012
Associated Links
Tweet