RSS Feeds
RSS feeds can deliver the latest InfoLab21 news and events direct to your browser without you having to visit the website.
In most browsers you can click on an RSS link and choose to subscribe to the feed to add it to your favourites or bookmarks.
---
BlogSpot: Should SEO Companies Be Accredited?
Aaron Crewe
About the author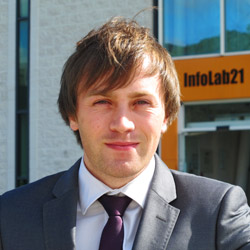 In this month's guest BlogSpot Aaron Crewe asks whether there is need for an Accreditiation Programme for SEO companies:
As a company offering ethical Search Engine Optimising (SEO) and Pay Per Click (PPC) services, we have an increasing number of enquiries from individuals who have been let down by their previous internet marketing companies.
This negative feedback towards SEO companies has given us cause for concern and we are looking for your help to gather information and statistics to establish whether there is a need for further regulation within the SEO and PPC Marketing Industry.
Some of the negative experiences customers have reported with previous companies include:
SEO Companies which do not disclose their approach or the work that they have carried out, the concern here is that they may be doing nothing at all.
SEO Companies which achieve top Google search rankings for easily obtainable and obscure search terms that no-one search for.
SEO is not simply a case of getting a few keywords to position higher on Google; it's about conversions and getting the maximum benefit from each client's website. A well-managed SEO campaign should enable a website owner to generate an increase in revenue and become more profitable as a result.
An Accreditation process may consist of:
A set of SEO 'best practice' guidelines to ensure that work is ethical and to the highest standard.
Vetting of SEO Companies to ensure that they confirm with these guidelines.
Case Studies showing evidence of an SEO company's achievements with search ranking reports and Analytics data which backs this up in detail.
We want to hear from business owners and decision makers as to whether you feel an SEO Accreditation programme would assist you in making a more informed decision as to who to trust within the industry.
Additionally, we would also like to hear from other SEO and PPC companies as to whether you feel that an SEO Accreditation Programme would assist you in distinguishing your business as an ethical SEO company within the industry.
To share your thoughts please comment below or contact Aaron on support@seo247.co.uk / 01524 566 736.
For more information on good SEO practice see Google's guidelines on SEO
Lancaster University cannot be held responsible for any activity by its Association Members. We display information from InfoLab21 Associate Companies on our site and we are not responsible for the content or privacy polices of InfoLab21 Associate Companies' sites, nor for the way in which information about them is treated.
Thu 30 August 2012
Tweet