RSS Feeds
RSS feeds can deliver the latest InfoLab21 news and events direct to your browser without you having to visit the website.
In most browsers you can click on an RSS link and choose to subscribe to the feed to add it to your favourites or bookmarks.
---
App of the Month: In Out Appetite for Life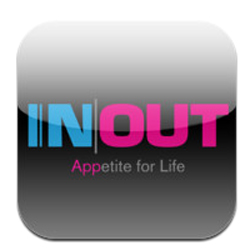 Developed through InfoLab21's Funded Business Support programme, ISTEP, this App was created alongside a mobile website for In Out Magazine, a free lifestyle, food and drink magazine by Chester based company UK IO Publishing Ltd.
The company wanted to develop a mobile presence and with guidance from the ISTEP Team it was decided that a mobile version of the In Out Magazine website (viewable on any phone that has internet access) would be created along with simple complementary iPhone and Android mobile applications that linked to the mobile website.
Created by PhD student Mark Lochrie, the app is available for both iPhone and Android and features allow users to:
Search for restaurants, hotels and spas by area
Watch the INOUT short films showcasing local venues, chefs and produce
Explore the INOUT recipe archive
Keep up to date with the INOUT blogs and monthly online newsletter
Search for events by area and category
Enter competitions
Learn about the INOUT 15% club
"The ISTEP Programme has rejuvenated In Out and it has taken us into the 21st Century enabling us to offer more added value to our clients." Giles Cooper, Managing Director, UK IO Publishing Ltd.
If you would like to know whether you are eligible for help with similar projects please contact out Business Relationship Officers Clare or Sam:
Clare Edwards
tel: +44 (0)1524 510466
email: c.a.edwards@lancaster.ac.uk
or
Samantha Winder
tel: +44 (0)01524 510463
email: s.winder@lancaster.ac.uk
"App of the Month" features some of the Apps to come out of InfoLab21's research and collaboration.
Fri 31 August 2012
Tweet