RSS Feeds
RSS feeds can deliver the latest InfoLab21 news and events direct to your browser without you having to visit the website.
In most browsers you can click on an RSS link and choose to subscribe to the feed to add it to your favourites or bookmarks.
---
Cyber Security Challenge UK announces first Cyber Camp at Lancaster University
Story supplied by LU Press Office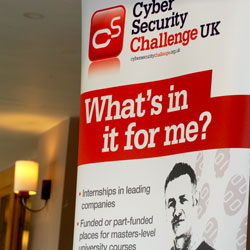 Some of the UK's most talented young cyber security enthusiasts have been selected for a first-of-its-kind five-day training camp at Lancaster University.
This year's Cyber Security Challenge UK, which runs Wednesday 5 September to Sunday 9 September, will give talented amateurs a priceless opportunity to learn about cyber defence from seasoned professionals.
Anyone interested in the sector will also have the opportunity to attend a Cyber Security Careers Fair on 7 September where they will meet major employers in UK cyber security.
Up to 30 candidates will spend an extended weekend at Lancaster University where they will face a series of security exercises developed by experts from organisations such as the Metropolitan Police Central e-crime Unit (PCeU), Raytheon, QinetiQ, HP and KPMG. Candidates will also receive advice on interview techniques and CV writing in order to improve their chances of landing that first job in cyber security.
This year Lancaster University was recognised by Government as one of an elite group of eight new academic centres of excellence in cyber security research in the UK. The only one in the north of England and Scotland, the new Lancaster University Academic Centre of Excellence in Cyber Security Research brings together internationally-recognised researchers from diverse disciplines to address key issues threatening our security online.
The Cyber Security Challenge UK began in 2010 as three competitions run by a small group of supporters from industry, government and academia to address a skills gap in the cyber security profession. Now, in its third year, the Challenge has grown its range of competitions to better represent the variety of skills currently demanded within the profession. Today the Challenge is backed by around 50 sponsors and also acts as a source of guidance for those keen to enter the industry.
The majority of the candidates attending the cyber camp are under 25 and have been specially selected from several hundred participants who have shown promise during the first round of current Challenge competitions, which have been taking place since April.
The camp's activities will include
Digital Forensics training - Candidates will enter a reconstructed crime scene where they will be taught about bagging and tagging and the confiscation of technology. With training from the Police Central e-crime Unit, Lancaster University and Micro Systemation, a leader in forensic technology for mobile device examination, they will learn how to analyse these devices to find out information about their owners. They will then be briefed on how to provide evidence in court as an expert witness which they must then put to use in a simulated court session.
Informed Defence training - Candidates will be briefed by cyber security experts at KPMG and Royal Holloway on patching and securing networks and the 'informed' part of cyber defence, e.g. Threat Analysis. They will then be split into teams and given half an hour to apply what they have learnt to a real IT infrastructure. The teams defend their newly patched networks from each other and later compete against the professionals at KPMG.
ICE Day (Innovation, creativity and entrepreneurship) - Lecturers at Lancaster will brief the candidates on cyber related business topics that require creative security solutions. Following additional briefings with HP and Ultra Electronics, they will be asked to take an entrepreneurial approach and come up with a business proposition to solve the issue. They will then present their solution within a 'Dragon's Den' featuring experts from Raytheon and Ultimate.
Wider Concepts Day - Candidates will be briefed and challenged on risk analysis, politics and criminology by the team at Lancaster University.
Cyber Security Careers Fair - Employers already signed up include HP, QinetiQ, and Cassidian, Raytheon and Ultra Electronics. Alongside them will be professional and education bodies such as CompTIA, (ISC)2, CREST, Infosec Skills, 7Safe and Royal Holloway. During the fair Raytheon will run professional skills workshops to develop attendee's interview and presentation techniques, increasing their chances of getting a job in the industry. Those interested in attending can register here - www.security-centre.lancs.ac.uk/careers-fair
Prof Awais Rashid, Co-Director of Security Lancaster and Theme lead for Cyber Security, said: "I see the summer camp and our collaboration with the Challenge as a fantastic way for us to develop the cyber security professionals of the future. The camp is exciting as it combines approaches from multiple disciplines into a holistic programme that aims to broaden the delegates' approach and thinking towards cyber security issues.
"Not only is the programme educational, but Lancaster and Raytheon are leading on the development of a day focused on careers and innovation in cyber security. An important aspect of this is the challenge run by Lancaster University to inspire creative and innovative solutions to current cyber security problems and guiding the attendees on how to identify and exploit new business opportunities. We are of the view that it is important to not only help our students to gain jobs, but also provide them with the best opportunities to create them in order to grow the economic wealth of the UK and to establish the UK as a world leader in cyber security innovation and entrepreneurship."
Stephanie Daman, CEO, Cyber Security Challenge UK, said: "The cyber camp concept is something completely new for this year's Challenge. It represents a great opportunity for our expert sponsors to work closely with a group of talented young amateurs to develop their skills and show them how exciting and varied the cyber security profession can be. We are running this as a proof of concept with the ambition to use it, for example, as the basis for a series of annual regional camps across the country, run out of local universities with a speciality in computer science and cyber security to specifically target younger guys and girls with real talent."
Thu 23 August 2012
Tweet