RSS Feeds
RSS feeds can deliver the latest InfoLab21 news and events direct to your browser without you having to visit the website.
In most browsers you can click on an RSS link and choose to subscribe to the feed to add it to your favourites or bookmarks.
---
Kindle Prize Draw Winner for the Cyber Security Survey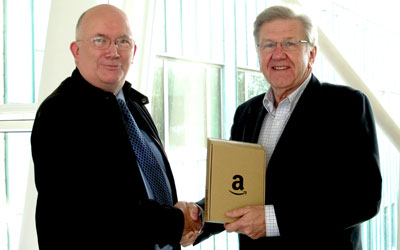 Congratulations to John Nuttall from ENdynamics Ltd who has won a Kindle Touch for taking part in the CSC2012 research survey.
Delegates of the Cyber Security Conference (#CSC2012) were asked to complete a survey, the results of which are soon to be published by Security Lancaster.
The conference, entitled "Protecting Your Businesss in an Insecure World" was held on 3rd September at Lancaster House Hotel.
John was presented with the Kindle Touch at InfoLab21 on Tuesday 25th September by Steve Riches, Director of the Knowledge Business Centre.
ENdynamics started up in 2011 and is based in Bolton. Their core business is focussed on Wheelchair Management for a wide range of clients including the NHS and private individuals.
John highlighted the closing speach of the event, by Dr Daniel Prince, as something he was particularly interested in, about building a business where security was fundamental and provided an opportunity to improve business capability.
Tue 25 September 2012
Associated Links
Tweet