RSS Feeds
RSS feeds can deliver the latest InfoLab21 news and events direct to your browser without you having to visit the website.
In most browsers you can click on an RSS link and choose to subscribe to the feed to add it to your favourites or bookmarks.
---
BlogSpot: Tips for Collaborating with Overseas Software Development Teams
Dawood Fard
About the author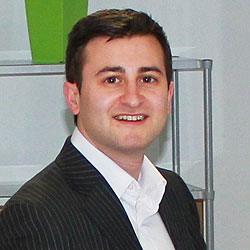 With almost three million people employed in India's technology industry alone, software development as an export is becoming increasingly popular. In this month's blog, Dawood Fard of Centurus shares his experiences and advice for working with overseas development teams.
UK companies looking for software development skills can often see outsourcing to countries such as India as an attractive alternative to using domestic teams largely due to the potential cost savings derived from lower wage costs. This perception of outsourcing as a 'low cost' option is commonly perceived as the single driver for opting to outsource overseas, however there is much more to benefit from.
Project costs could be as low as 10% of that in the UK.
There is a well defined and strong work ethic in India
Often there are dedicated office support staff allowing developers to focus on projects without distraction.
Developers are typically educated to degree or postgraduate level often in focussed subjects.
At Centurus, we adopted a development methodology in two sections: 'Creative Development' and 'Technical Development'. We ensure that the creative element remains based in the UK as it is believed that those closest to the customers should drive the end product design. This allows the skills and competencies of the Indian outsourcing partners to focus accomplishing the technical development.
As with any large scale software development, it is essential that development staff clearly understand project requirements and that operational efficiency is maintained. There are inevitable and often significant differences between the UK Company and overseas outsourcing partner in terms of culture, language and time of day. These differences need to be recognised and processes adopted to ensure clear two way communication in relation to specifications and project requirements.
Our top tips for outsourcing technical development include:
Research, review and appraise companies. - There are a significant amount of companies to choose between so seek recommendations, review portfolio and negotiate all terms prior to deployment.
Build trust and rapport. - Spend time getting to know your developers and share your vision, you'll be spending a lot of time working together!
Establish a solid communication platform. - Consider off-the-shelf project management systems and use of Skype. Stay in touch throughout and be available to respond to any queries.
Be clear in your communication. - Beware of any cultural misunderstanding, write very specific project requirements and annotate as much as possible. Online wireframe software can be very useful.
Share responsibility, have clear accountability and embrace team celebration. - Although they may not be based at your headquarters, your developers should still share the same pride and passion as all your staff. Discuss challenges together and celebrate achievements together.
Lancaster University cannot be held responsible for any activity by its Association Members. We display information from InfoLab21 Associate Companies on our site and we are not responsible for the content or privacy polices of InfoLab21 Associate Companies' sites, nor for the way in which information about them is treated.
Wed 31 October 2012
Tweet