RSS Feeds
RSS feeds can deliver the latest InfoLab21 news and events direct to your browser without you having to visit the website.
In most browsers you can click on an RSS link and choose to subscribe to the feed to add it to your favourites or bookmarks.
---
Lancaster Authors Dominate IEEE Computer Special Issue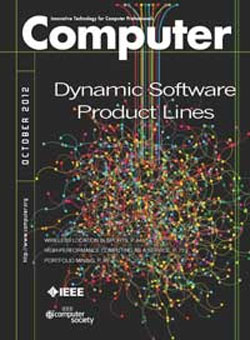 3 of the 5 papers in the October issue of IEEE Computer Magazine (a special issue on Dynamic Software Product Lines) are by Lancaster or former Lancaster Authors.
2 papers are authored or co-authored by people from the School of Computing and Communications: Dr Jaejoon Lee, Dr Gerald Kotonya, Dr Daniel Robinson and Professor Peter Sawyer. Plus for a third paper the first author, Dr Nelly Bencomo, is an SCC PhD graduate.
The papers can be found in the current (October) issue of IEEE Computer and are available online from the links below: (Subscription required to read full articles)
Engineering Service-Based Dynamic Software Product Lines:
Lee, Jaejoon; Kotonya, Gerald; Robinson, Daniel
Using Constraint Programming to Manage Configurations in Self-Adaptive Systems:
Sawyer, Pete; Mazo, Raúl; Diaz, Daniel; Salinesi, Camille; Hughes, Danny
A View of the Dynamic Software Product Line Landscape:
Bencomo, Nelly; Hallsteinsen, Svein; Almeida, Eduardo Santana
Tue 20 November 2012
Tweet