RSS Feeds
RSS feeds can deliver the latest InfoLab21 news and events direct to your browser without you having to visit the website.
In most browsers you can click on an RSS link and choose to subscribe to the feed to add it to your favourites or bookmarks.
---
Summer Placement Scheme 'Highly rewarding and fulfilling'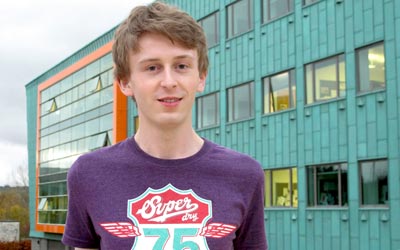 Following a successful pilot scheme in summer 2012, InfoLab21 are offering students and businesses the opportunity to apply for the Summer Placement Scheme 2013.
In 2012 the Knowledge Business Centre placed over 20 students from the School of Computing and Communications in industrial placements for 8 weeks paid employment during the summer.
Reports have been highly positive from both students and companies taking part. Students have found the experience rewarding and career enhancing whilst companies have reported an increase in productivity and have benefitted from the added skillsets of the students.
Case Study
We asked MSci Computer Science student, Ross Wilson and Lancashire based Digital Marketing Agency, Xyone to report back on their experience of the new scheme.
Xyone required an extra Developer to allow the company to expand and take on more development projects. Through the application process, Xyone's requirements were matched with Ross's skills and Ross began his placement in July. He completed it at the end of August with the offer of a consultancy job with the company.
Ross's Report
"When I left I was offered a job to continue working with Xyone as a consultant."
"My placement with Xyone was highly rewarding and fulfilling. I already had experience with working with clients on web development projects, but had never done so as part of a team. The people at Xyone are fantastic at what they do and they welcomed me from day 1. I began by working with their existing developer learning how their processes work and after a few days was already taking on client work requests. I came away from the placement with a much greater understanding of teamworking and understood how important it was to communicate and utilise the resource of the many fantastic staff, rather than take on huge projects single-handedly.
"When I left I was offered a job to continue working with Xyone as a consultant. To sum it up, the two month placement taught me a lot more than any lecture could. I consider it a great taster for what it's like to work in an IT organisation once I graduate."
Ross Wilson, Student at School of Computing and Communications
Xyone's Report
"Ross was a credit to Lancaster University"
"During Ross's placement at Xyone, he worked towards developing a client website using our bespoke CMS system. In addition, Ross undertook many ad-hoc support tasks which required open source development skills. Ross's experience allowed Xyone to make fixes and changes to several client sites which had required specific open source knowledge, mainly Wordpress and Buddypress sites. As a direct result, many of these fixes implemented by Ross helped SEO efforts for client sites with which we are commissioned to keep at the top of search engine rankings. Ross also took control of the implementation of all client website to be ICO cookie compliant apply scripts to allow the websites to seek consent and implied consent from all visitors.
"We felt that Ross brought a wealth of experience and was an asset to the team. He integrated well in social activities and was very capable in his day-to-day work. Xyone employed Ross in a paid capacity for a time period following his placement and would continue to do so but we understand that his current workload doesn't allow for this. Above all, we felt that Ross was a credit to Lancaster University.
"The major benefits from Ross' placement were that the extra resource meant that projects made completion before deadlines, which is a huge plus point for any business. Ross's capability and initiative allowed Xyone to trust him to take on the job in hand and have confidence in the result without the need for hands on management. The additional resource and skillset that Ross brought to the team allowed us to increase productivity, and following the departure of Ross, the outcome has been that it made us realise we have a requirement to employ another developer with skills in open source."
Andrew Lancaster, Director at Xyone Limited
For more information on the InfoLab21 Summer Placement Scheme go to Summer Placement Scheme
Or contact Paul Okanda: p.okanda@lancaster.ac.uk
Mon 03 December 2012
Tweet