RSS Feeds
RSS feeds can deliver the latest InfoLab21 news and events direct to your browser without you having to visit the website.
In most browsers you can click on an RSS link and choose to subscribe to the feed to add it to your favourites or bookmarks.
---
£700k Project to Boost Clinical Assessment Rates for Cognitive Decline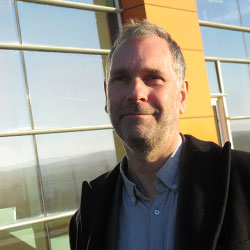 Currently, only 50% of people with dementia ever receive a diagnosis that could lead to them receiving medical care and support. So urgent is this problem that novel ways to persuade people to present themselves for clinical assessment are being sought. Lancaster University is leading a project to see if computer interaction can offer new opportunities for self-referral.
The £700k SAMS (Software Architecture for Mental health Self management) project, funded under the EPSRC Working Together call, will investigate the use of data and text-mining techniques, combined with adaptive user interfaces to detect early signs of cognitive decline from the way people use their computers.
Professor Pete Sawyer from the School of Computing and Communications explains:
"SAMS aims to contribute by exploiting the fact that the elderly increasingly use email and electronic social networks to keep in touch with friends and family. These electronic media provide an opportunity for the inference of changes to cognition from clues within the authored text and from the way in which people interact with the computer or device, if appropriate text and data-mining techniques can be developed.
"A further challenge is how to use the results in a way that meets the aims of increasing the rate of self-referral without causing unnecessary distress or alarm. In Computer Science terms, SAMS poses some really hard challenges for text and data mining, for human computer interaction and for the design of systems that can adapt as their users' needs change."
The project is led from the School of Computing and Communications by Prof. Pete Sawyer, Dr. Paul Rayson and Prof. Alistair Sutcliffe, and is joint with Prof. Alistair Burns, Dr Iracema Leroi and Prof. John Keane from Manchester University and Prof. Clive Ballard from Kings College London. The project is supported by the Dementias Neurodegen Network (DeNDRoN), The Alzheimer's Society, Microsoft Research, the University of British Columbia and Johns Hopkins University School of Medicine.
Tue 11 December 2012
Tweet