RSS Feeds
RSS feeds can deliver the latest InfoLab21 news and events direct to your browser without you having to visit the website.
In most browsers you can click on an RSS link and choose to subscribe to the feed to add it to your favourites or bookmarks.
---
Success for School of Computing and Communications at Top-Tier Conference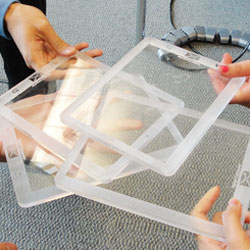 The School of Computing and Communications has achieved its highest ever success at ACM SIGCHI, the top international conference on Human Computer Interaction (HCI), with nine papers accepted for publication. Two proposals from the School to run interactive workshops at the event were also accepted.
The ACM SIGCHI Conference on Human Factors in Computing Systems (CHI 2013) is widely recognised as the most prestigious venue for publication of research into HCI, attracting almost 2000 paper submissions this year.
Dr Jason Alexander who organised the School's CHI 2013 Author Support Group, said:
"The acceptance of nine papers into the most competitive conference in this field is a clear demonstration of the high-quality HCI research conducted at the School of Computing and Communications.
"With four papers accepted last year, the School has more than doubled its publications at this conference. In HCI, conference publications have greater impact than journals, meaning that this conference is of special significance to researchers in this field."
Lancaster will be represented by a large contingent of researchers attending CHI 2013 in Paris next spring.
The list of accepted papers from the School is as follows:
Workshops
Experiencing Interactivity In Public Spaces
Kaisa Väänänen-Vainio-Mattila (Tampere University of Technology), Alvaro Cassinelli (University of Tokyo), Jonna Häkkilä University of Oulu), Jörg Müller (Telekom Innovation Laboratories), Dr Enrico Rukzio and Albrecht Schmidt (University of Stuttgart)
Organic Experiences: (Re)shaping Interactions with Deformable Displays
Dr Jason Alexander, Ryan Brotman (Arizona State University), David Holman (Queen's University, Kingston), Audrey Younkin (Intel Corporation), Roel Vertegaal (Queen's University), Johan Kildal (Nokia Research Center), Andrés Lucero (Nokia Research Center), Sriram Subramanian University of Bristol)
Tue 18 December 2012
Tweet