RSS Feeds
RSS feeds can deliver the latest InfoLab21 news and events direct to your browser without you having to visit the website.
In most browsers you can click on an RSS link and choose to subscribe to the feed to add it to your favourites or bookmarks.
---
'Cheeky Promotions' Wins Enterprise of the Year Award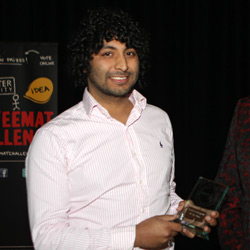 Entrepreneur Avinash Nandwani, a PhD student at the School of Computing and Communications picked up the award for Student Enterprise of the Year at the Lancaster University Student Enterprise Awards 2012.
Avinash's business "Cheeky Promotions" has been running for 6 months and offers a new, modern approach in event management. He has successfully combined what he has learned through his academic studies (a degree in Communications, a MSc in Mobile Commerce and his PhD in Near Field Communications (NFC) Technologies) with his hobby of socialising and has created an innovative business that is a new approach in event management and the modern solution to loyalty and introduction services.
Avinash explained what winning the award means to him:
"It is great to have the recognition for all the work I have done throughout the year and to know that people in the University believe in me. You have to believe in yourself and in your product and the award lets me know that I am on the right path."
With Lancaster as a 'test town' Avinash has high ambitions for the Cheeky Promotions brand, along with its Monkey mascot, to spread to more towns and cities both nationally and internationally.
Designer Wayne Hemingway MBE was the guest of honour at the event. He said: "If you have a passion, that passion can lead to a business. If you like doing something, there is some way of making it into a career. Business is about making people happy and if you can please your customers, they will come back for more."
Enterprise Champion at Lancaster University Jon Powell said,
"There are currently hundreds of enterprise-related activities at Lancaster University including the Coffeemat Challenge, a business ideas competition.
"Every idea is a spark and we're here to celebrate those people who've taken ideas and made them happen."
Thu 20 December 2012
Tweet