RSS Feeds
RSS feeds can deliver the latest InfoLab21 news and events direct to your browser without you having to visit the website.
In most browsers you can click on an RSS link and choose to subscribe to the feed to add it to your favourites or bookmarks.
---
App of the Month: UniChooser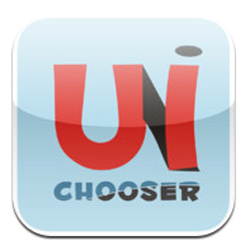 Developed through InfoLab21's Funded Business Support programme, ISIS, this App was created for Tenterfell Technology Partnership, a Higher Education Consultancy Service based in Kendal.
The App helps prospective students and parents choose a university.
Key Features:
Designed to give completely independent information and advice to enable users make the right decisions
It covers all the things you need to think about to help you choose your 5 UCAS options from which subject at which university, to the grades you'll need, how to write a personal statement and how much it will all cost
Each section start with a quiz and then there's a short animated video which gives you the information you need to help you make your decisions and some killer tips
You can also record your decisions as you go along and share them at the end with your friends, family and teachers via Facebook or Twitter.
Go to the link below to view the iPhone App on the Apple App Store.
If you would like to know whether you are eligible for help with similar projects please contact out Business Relationship Officers David or Sam:
David Oliver
tel: +44 (0)1524 510466
email: d.a.oliver@lancaster.ac.uk
or
Samantha Winder
tel: +44 (0)01524 510463
email: s.winder@lancaster.ac.uk
"App of the Month" features some of the Apps to come out of InfoLab21's research and collaboration.
Thu 31 January 2013
Tweet