RSS Feeds
RSS feeds can deliver the latest InfoLab21 news and events direct to your browser without you having to visit the website.
In most browsers you can click on an RSS link and choose to subscribe to the feed to add it to your favourites or bookmarks.
---
Award for female CEO of technology firm
Story supplied by LU Press Office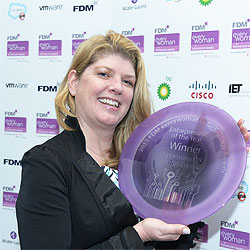 A Lancaster University alumna who founded her own firm has been awarded the title of Entrepreneur of the Year at the FDM everywoman in Technology awards.
In 2006, Jennifer Sheridan gained a PhD in Computer Science in which she established the field of Digital Live Art. In 2010, she founded Togeva Ltd, which allows people to create and share digital content on mobile devices.
She said: "Studying at Lancaster University gave me the freedom to combine my interests in live art, creativity and computer science - which was quite left field at the time. However, Lancaster provided the environment for me to take risks, push for change and to hone my skills as a creative developer.
"So, over the course of completing my PhD in Computer Science, I was, albeit unwittingly, nurturing entrepreneurship. I strongly believe that creativity and risk is at the very heart of entrepreneurship."
The Awards programme is one of the UK's leading initiatives to raise the profile of women in IT, where they occupy fewer than one in five of all technology posts.
The judges were impressed by Jennifer's support for other women in the sector, where she is actively involved in the startup scene in Tech City/Silicon Roundabout.
Jennifer said: "I feel that it is the responsibility of every woman to act as a role model to other women and to recognize and support the women around them throughout their careers. When a positive female role model says 'I'm proud of what you've achieved' it helps women gain the confidence to say 'I'm proud of what I've achieved' - this is an important and constructive step to ensuring their continued success."
The awards ceremony was at The Savoy Hotel in London, attended by hundreds of leading figures from the technology industry and business.
Maxine Benson MBE, co-founder of everywoman, said: "The technology sector has demonstrated its commitment in the past few decades to embracing and nurturing its female talent, and we hope by celebrating these winners today, we can encourage others to follow in their footsteps."
Wed 10 April 2013
Tweet