RSS Feeds
RSS feeds can deliver the latest InfoLab21 news and events direct to your browser without you having to visit the website.
In most browsers you can click on an RSS link and choose to subscribe to the feed to add it to your favourites or bookmarks.
---
Royal Seal of Approval for Rinicom
Story supplied by LU Press Office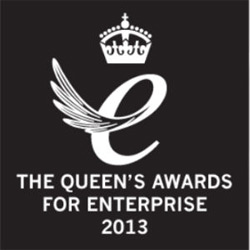 Lancaster-based Rinicom Limited, whose Chief Executive is the School of Computing and Communications' Professor Garik Markarian, has been awarded the Queen's Award for Enterprise in International Trade 2013 (export), one of the UK's highest accolades for business success.
Rinicom Limited is a leading edge technology company which develops and manufactures COFDM wireless IP mesh communication systems aimed at first responders and professional security services.
The award is valid for five years and winners are invited to a reception with HM The Queen at Buckingham Palace.
Professor Markarian said, "Winning the Queen's Award for Enterprise is a fantastic achievement for us and clearly demonstrates the international demand for cutting-edge technology.
"Strong links with Lancaster University and our investment in R&D has enabled Rinicom to maintain its competitive advantage and continuously innovate, enabling us to develop a full range of world class IP MESH COFDM systems. This has resulted in continuous export growth of over 30% per annum by revenue."
Currently Rinicom sponsors 4 PhD students at Lancaster University and provides opportunities for industrial placements for both UG and PG students. In addition, the majority of Rinicom staff are graduates of Lancaster University.
Speaking from his office in Skerton, David Morris MP said, "This award is testament to the skills and expertise of the management and staff of Rinicom Ltd."
Wed 01 May 2013
Tweet