RSS Feeds
RSS feeds can deliver the latest InfoLab21 news and events direct to your browser without you having to visit the website.
In most browsers you can click on an RSS link and choose to subscribe to the feed to add it to your favourites or bookmarks.
---
TNP to build Blackpool's own high-speed internet infrastructure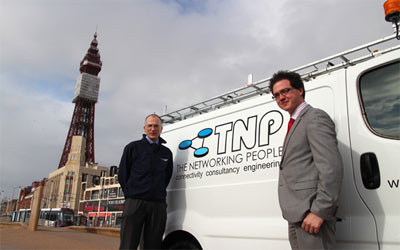 A pioneering partnership between a resident company of InfoLab21, The Networking People (TNP), and Blackpool Council will enable up to six North West local authorities to benefit from a compliant, secure, high-capacity broadband network independent from national telecoms companies.
Around 100 schools, libraries, business incubator sites and public buildings will be aggregated across the network in Blackpool alone.
A £3.2 million, five-year managed services contract will allow TNP to take advantage of a range of technologies: including Local Loop Unbundling (LLU), private fibre infrastructure, microwave radio and existing council assets, to make significant savings for the council over the term.
BBC Radio Lancashire
Director of TNP, Chris Wade, talked to presenter Brett Davison at BBC Radio Lancashire on Thursday 16th May, highlighting the "hotbed of creativity and technological talent" at Lancaster University.
You can listen to the radio interview at soundcloud.com/tnp_rw/tnp-chris-wade-on-bbc-radio.
Digital by Default
TNP will design and build a council-owned wide area network (WAN) to reduce reliance on revenue budgets, releasing money for other key services. Blackpool Council will be the custodian of an infrastructure that adheres to the relevant principles of a PSN network and will give resilient, secure connectivity to the town and surrounding regions. TNP is assisting the Council to comply with the PSN Technical Interoperability requirements and also GCSX, PCI DSS and ISO: 27001 standards.
In line with central government's Digital by Default agenda, which recognises the need to enhance public internet services, libraries and leisure centres will be able to open up this high-speed WiFi to the general public. Schools will be offered the best-price connectivity in the region, as well as migration to the latest cloud-based services, including Google Apps and Microsoft 365. Web-based phone systems will also be installed, virtually eliminating schools' and the council's phone bills.
Councillor Chris Maughan, Cabinet Member for Technology, says: "This partnership is allowing the council to make significant savings at a time when the cost of telecoms is going up. It is also providing the town with resilient and secure connectivity that is completely under our control to grow and adapt as we do."
Tony Doyle, head of ICT Services at Blackpool Council, says: "TNP's solution will modernise how the council delivers services to the public and it is an enabler for huge efficiencies that we can channel into other key areas.
"TNP really impressed us with their understanding of our existing infrastructure - where we could use Local Loop Unbundling (LLU) and where we needed other technologies. They are not just a supplier of our connectivity, they complement and support our in-house team and exceed our service level agreement at every opportunity," adds Mr Doyle.
Chris Wade, director, TNP, comments: "As a regional, independent business, not only are we able to offer the council asset ownership of the network, but we can provide cost savings by integrating existing infrastructure and dramatically reduce operating costs.
"We understand that vital services will operate across this network - from schools to public health services - and our resilient solution provides the highest levels of connectivity to ensure these are maintained 24/7," Wade concludes.
The network will be rolled out over the next six months, with TNP continuing to develop and manage the service over the next five years. The framework will allow for at least six other Lancashire councils to collaborate and join the network at any time.
Fri 17 May 2013
Associated Links
Tweet