RSS Feeds
RSS feeds can deliver the latest InfoLab21 news and events direct to your browser without you having to visit the website.
In most browsers you can click on an RSS link and choose to subscribe to the feed to add it to your favourites or bookmarks.
---
Catch Comms on Channel 4 in 2006
Story supplied by LU Press Office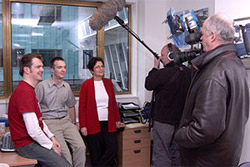 Aurora Borealis was one of the top 100 most searched for subjects in 2005 and Channel 4 visited InfoLab21 this month to gather information for a feature in an educational programme on internet searches, due to be broadcast in January 2006.
As part of the programme the Channel 4 crew interviewed Prof. Farideh Honary and other members of the Aurora Watch team from Lancaster University's Department of Communications Systems.
The space plasma environment and radio science group operate the UK Sub Auroral Magnetometer Network (SAMNET), which is an important tool for studying the physical processes involved in the Sun-Earth interactions. It is funded by the Particle Physics and Astronomy Research Council (PPARC) as one of the UK Solar Terrestrial Physics (STP) national facilities.
The data from the magnetometer is processed whilst it is recorded and used to show the current activity level on a Web page. It is also used to alert subscribers to the Aurora Watch programme when Auroras are likely to be seen over the UK. A popular misconception is that the 'Northern lights', or Aurora Borealis is only visible in the arctic (or the Antarctic for the aurora australis); however sometimes the Aurora can be observed over Britain, even Lancaster, so take a look.
Wed 21 December 2005
Tweet