RSS Feeds
RSS feeds can deliver the latest InfoLab21 news and events direct to your browser without you having to visit the website.
In most browsers you can click on an RSS link and choose to subscribe to the feed to add it to your favourites or bookmarks.
---
App allows instant feedback on council maintenance
Story supplied by LU Press Office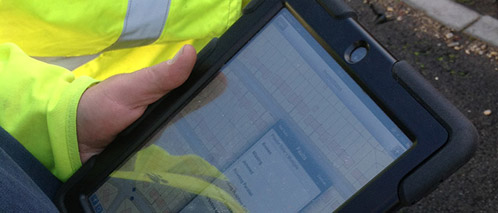 Members of the public are being asked to use their smart phones to comment on roadworks and flooding in a pilot project to improve feedback to local councils.
The aim is to improve trust between the public, contractors and local authorities and so reduce costs and improve efficiency.
The two iPhone mobile phone apps - StreetSmart and Flooder - will also help in the prioritisation of maintenance work. The apps are being trialled in the Redcar and Bristol areas and will be free to download for iPhone users. The apps have been developed by Lancaster University, InTouch Ltd and Carillion plc as part of a research project called FAITH which aims to use the latest developments in computing to improve the delivery of contracted services.
Professor Nigel Davies from the School of Computing and Communications at Lancaster University said: "This is a tremendously exciting project that aims to understand how to bring together the public, councils and contractors to help collectively maintain the UK's infrastructure more effectively and efficiently. The project is highly innovative in its focus on using technology to support trust between collaborators."
The FAITH project is funded by the Technology Strategy Board, the UK's innovation agency.
Researchers on FAITH have designed software that fits in with existing systems for issuing and monitoring work in order to provide evidence of trustworthiness. This will deliver substantial benefits and cost savings to businesses and public bodies, and increased trust in local authority services and so is also likely to improve their relationship with the public.
Highways maintenance - mending potholes, clearing drains, carrying out repairs - is characterised by a complex set of workflows and data exchanges with significant levels of mistrust, both between the stakeholders the council, contractors and the public - and collectively in the data provided by the systems they use.
If you are interested in downloading an app contact simone.gristwood@intouch.ltd.com
Thu 11 July 2013
Tweet