RSS Feeds
RSS feeds can deliver the latest InfoLab21 news and events direct to your browser without you having to visit the website.
In most browsers you can click on an RSS link and choose to subscribe to the feed to add it to your favourites or bookmarks.
---
NuBlue Flies the InfoLab21 Nest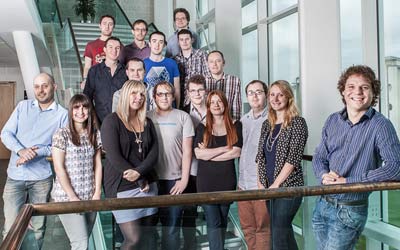 Digital agency, NuBlue, one of the very first companies to move into InfoLab21 when it opened in 2005, have now grown so much that they will be leaving this week for their new (larger) offices in Lancaster.
Though we are sorry to see them go, we are very proud of their achievements over their 8 years with us and we wish them all the best for the future.
Before they left we caught up with Director Michael Ashworth about his experience as a resident company of InfoLab21:
Michael Ashworth, NuBlue
2005 Launch
"NuBlue launched in August 2005. At the time it was only my brother Tom and me (Michael). We had a tiny office; in fact, we had the smallest office in the InfoLab21 building!
"As the company grew, we moved a total of five times in InfoLab21 itself, though the fourth time involved knocking down a neighbouring wall to expand the office! InfoLab21 have been very accommodating, allowing us to develop our company whilst staying in the same building.
"At the time of our launch, we started looking at rural business centres and places in Preston but chose InfoLab21 because it had a modern feel which was great for a tech company. We rang up Steve Riches, who was the director of the Knowledge Business Centre at the time, and he made it very easy for us to set up our office."
Business Development
"We've worked with Colin McLaughlin and Nick King, who were on hand in the Knowledge Business Centre to assist with business development. InfoLab21 have organised many helpful business events we have attended, such as knowledge sharing and meetings for start-ups. At the time we started, many businesses in the KBC were also start-ups.
"We've employed around ten Lancaster University graduates, in addition to having placement students. Through a KBC placement, we had a student called Pavel working for us during a summer internship. We also had Ravic (a student from Portugal who came through the Leonardo Programme for work experience in Europe), James (a Lancaster University student who worked with us for three months part-time) and Thanasis (a Greek student who did a 6 month placement, then returned to work with us for a year!). We have also employed some of the former members of InfoLab21's Graduate Academy."
Collaborating with local and academic communities
"I've been involved with the InfoLab21 Steering Committee, representing all KBC businesses, for the past three years. We're also excited to be part of the BARTER and LUSU Involve projects, collaborating with the local and academic communities in Lancaster.
"The reason we're moving is due to our growing company, but we are still going to keep in close contact with the wonderful people at the University. We've made many connections, and we hope to look for Lancaster University graduates in the future and continue the bond with InfoLab21.
"So I guess this is a goodbye, but not really a goodbye."
Colin McLaughlin, InfoLab21
Technology Transfer Manager, Colin McLaughlin worked as one of InfoLab21's Business Development Officers in NuBlue's first few years. He has seen them grow from a team of two to a team of 21, and counting.
"Since meeting Michael and Tom I have always been impressed by their drive and the clarity of their vision. They have been able to make a substantial success of their fledgling company from its infancy in 2005, through the toughest trading conditions globally for a generation, to the bustling enterprise it is now.
"I am sad to see them leave InfoLab21 but they are leaving for the right reasons, and I am pleased that they are continuing their links with the University."
Below are our articles on just some of NuBlue's many achievements over their time at InfoLab21:
Thu 01 August 2013
Tweet