RSS Feeds
RSS feeds can deliver the latest InfoLab21 news and events direct to your browser without you having to visit the website.
In most browsers you can click on an RSS link and choose to subscribe to the feed to add it to your favourites or bookmarks.
---
International Investment Opportunity to Pitch for ICT Businesses at Innoventure Europe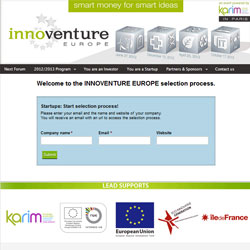 This unique opportunity (within the two years of Innoventure Europe) is available to SMEs from across Western Europe to excite international business angel and venture capital investors with a 10 minute pitch.
Innoventure Europe will be held at CAPITAL 8 in Central Paris on the afternoon of 17 October and is free for the 20 SMEs selected to pitch (normally £1,000).
Personalised advice and coaching is also provided (including the day before in Paris) to maximize the impact of your pitch.
To apply go to innoventure-europe.com and select STARTUPS Start Selection Process. The first round of the 3-stage selection process takes just a few minutes and closes on 15 August.
Please note that participation in Innoventure Europe is dependent on a signed non-disclosure agreement to protect both you and others.
Each event is also an important networking opportunity with close to 200 investors and start-ups in one technology area.
For further information please contact Arthur Cornez at arthur.cornez@innoventure-europe.com +33 (0)9 70 40 70 65, or see innoventure-europe.com .
Should you need any further support in preparing a pitch please contact the UK representative Chris Holroyd at c.p.holroyd@lancaster.ac.uk or on 01524 510228.
Fri 02 August 2013
Tweet