RSS Feeds
RSS feeds can deliver the latest InfoLab21 news and events direct to your browser without you having to visit the website.
In most browsers you can click on an RSS link and choose to subscribe to the feed to add it to your favourites or bookmarks.
---
130 North West SMEs to benefit from £2 million Lancaster University ICT programme
Story supplied by LU Press Office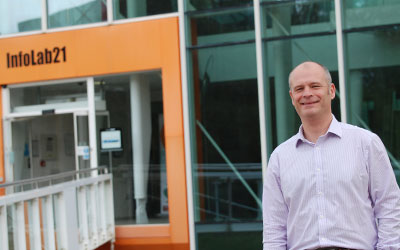 Small and medium sized enterprises (SMEs) across North West England are to benefit from a £2million extension of a successful Lancaster University programme.
Around 130 SMEs in the region are to benefit from a 12-month continuation of the ISIS programme, which is run by the School of Computing and Communications, based in InfoLab21, Lancaster University's ICT centre of excellence.
ISIS aims to help North West SMEs identify and utilise digital technologies to develop innovative product and service offerings, increasing levels of investment in the region's ICT sector. The project funds a team of recent graduates of IT disciplines to offer short term consultancy services around areas such as: research into new technologies; proof of concepts; ICT Strategies & infrastructure development; and mobile and web technologies.
Steve Fish, Head of Business Partnerships and Enterprise at the School of Computing and Communications, said: "We are happy to be able to offer our successful ISIS programme to a further 130 businesses across North West England.
"The programme is a great way for the region's SMEs to access basic IT support to ensure they have a presence in the digital age. It is also an excellent way of providing real-world experience for our graduates, which helps them to demonstrate their employability in a competitive jobs market, as well as boosting the region's technical skills base."
ISIS has run since the end of 2009 and has so far assisted 293 companies within the North West, generating 185 new jobs and safeguarding 900 existing positions. The programme has been able to support 76 interns with all of them finding employment following their time on ISIS. In addition, several of these graduates have gone on to form their own IT businesses.
"ISIS has already made a significant impact on the regional economy and it is great to be able to continue this good work and help more North West SMEs," said Steve. "Lancaster University recognises the huge importance of SMEs in our economy and ISIS is one way the School of Computing and Communications is able to help boost companies of this size, resulting in more jobs and wealth."
ISIS is part funded by the European Regional Development Fund with matched funding from Lancaster University. The ERDF have invested a further £1 million to extend the programme for an additional year.
North West SMEs who are interested in finding out more, or applying to participate in ISIS, should contact David Oliver, Business Relationship Officer at InfoLab21 on d.a.oliver@lancster.ac.uk or by calling 01524 510466.
For more information on ISIS please visit www.infolab21.lancs.ac.uk/business/isis/
Mon 21 October 2013
Tweet