RSS Feeds
RSS feeds can deliver the latest InfoLab21 news and events direct to your browser without you having to visit the website.
In most browsers you can click on an RSS link and choose to subscribe to the feed to add it to your favourites or bookmarks.
---
InfoLab21's TNP Helps Achieve Much-Needed Rural Connectivity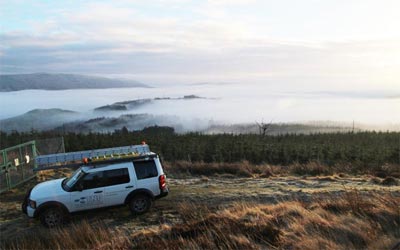 Lancaster Communications Provider, The Networking People (TNP), has completed a pioneering rural connectivity project in partnership with Stirling Council, granting remote nursery and primary schools access to high-speed internet.
Thanks to the knowledge and range of technologies offered by TNP, who are based at Lancaster University's InfoLab21, the local authority is now the owner of its own carrier-class microwave network. Across this geographically-challenging highland region some 17 rural schools, two libraries and 24 satellite offices now have access to this high-speed connection, transforming the lives of teachers and pupils in some of the county's most rural locations.
Chris Wade, director of TNP, says: "TNP's experience of delivering high quality connectivity across the North West of England to both the urban and rural locations has certainly benefited the project in Stirling. Rural connectivity in Scotland has become something of a specialism for us. Stirling posed some interesting challenges, with a majority of the population residing in the city and the rest spread over a vast and sparsely populated area.
"It is only when you have access to a wide range of communications technologies that you can be flexible enough to offer an affordable solution to what can be a costly challenge for many local authorities. By opting to work with an agile, flexible partner like ourselves, we were able to generate savings of around 30 per cent for Stirling, compared to an equivalent fixed-line solution."
Stirling Council's ICT Infrastructure Manager, Alan MacDonald, says: "This has made a considerable difference to the primary schools and nurseries in our rural regions that now have far better access to learning and teaching resources."
One primary school went from a 512KB to a 10MB broadband connection and as a result gained access to key online resources such as BBC iPlayer for the first time.
"This is something that could only be achieved cost-effectively with the expertise of TNP, and not the traditional internet service providers (ISPs)," he adds.
"This kind of technology has become much more affordable and allows us to provide these valuable and much-needed improvements at a cost that is value-for-money for the county. TNP looked at how we could maximise on our existing infrastructure to build and expand the network in the most relevant and economical way."
Rollout of the network saw the challenge of connecting not only Stirling's city centre public buildings, but providing network access to services in sparsely populated areas, almost devoid of any existing network infrastructure or access to high-capacity broadband.
Thanks to this ongoing project, Stirling Council, which has been well ahead of the technology curve for a number of years, has already met Central Government's targets to provide access to high-speed broadband in the region, well ahead of the already delayed 2015 target.
"Rural connectivity remains a challenge, particularly against a backdrop of reducing budgets. The difference that we have been able to make with this project has made it hugely worthwhile, especially when I speak to schools who are overwhelmed at the benefits that they will be able to reap from this new connectivity," concludes Mr MacDonald.
TNP will continue its relationship with Stirling Council by extending the network to other sites in the region. The Communications Provider is also working with a number of other local authorities in Scotland and across the UK, most recently in Blackpool and in the Shetland Islands.
Mon 11 November 2013
Associated Links
Tweet