RSS Feeds
RSS feeds can deliver the latest InfoLab21 news and events direct to your browser without you having to visit the website.
In most browsers you can click on an RSS link and choose to subscribe to the feed to add it to your favourites or bookmarks.
---
InfoLab21 software company reaches final of 'hackathon' competition with energy-saving idea
Story supplied by LU Press Office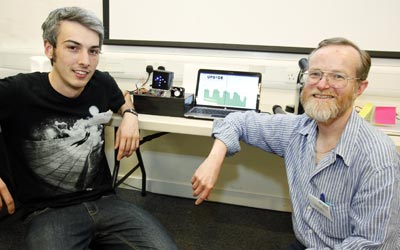 An InfoLab21-based technology company has been awarded £10,000 to develop an energy saving idea to help reduce electricity demand at peak times.
Tripod, which is based in co-location space at Lancaster University's InfoLab21, won the funding after their idea was judged to be among the best at a recent Dynamic Demand 'hackathon' event in London, which attracted more than 76 competitors from across the UK.
The competition was set up to encourage new ideas on how we can reduce demand on energy supplies during peak periods, and shift some of the demand to off-peak times, or to periods where more renewable energy is being produced - such as windy days. This is a problem of increasing importance in the UK as energy supply struggles to keep pace with increased demand, particularly as old nuclear reactors are decommissioned.
Tripod, along with freelance technology consultant Graham Oakes, came up with an idea to use the batteries from uninterruptible power supplies (UPS) - which typically provide short-term emergency back-up for computer systems if mains electricity is cut off.
Their idea involves charging the batteries during off-peak times and using the stored energy to power devices during peak periods of energy consumption.
Matt Potts, a director of Tripod, said: "By using batteries from UPS devices we predict that we will be able to reduce electricity demand for devices of around 15-20 minutes. The cumulative effect of many devices being powered in this way adds up to a significant energy saving of 10 megawatts in the first year, and larger savings in future years.
"The competition involved lots of brain-storming, networking and building prototypes. It is fantastic that we were selected as one of the finalists and to receive funding to further develop our idea."
Tripod's directors are all Lancaster University graduates and Matt Potts met Graham through a placement as part of the Lancaster University ISIS project. They have a chance to win £50,000 to further develop their idea for the market if they win the competition final in June 2014.
The Dynamic Demand hackathon competition was organised by Nesta, is sponsored by National Grid and funded by the Department for Business innovation and Skills. National Physical Laboratory's, Centre for Carbon measurement and Imperial College London are partners.
For more information about the Dynamic Demand competition visit dynamicdemand.nesta.org.uk
Thu 21 November 2013
Associated Links
Tweet