RSS Feeds
RSS feeds can deliver the latest InfoLab21 news and events direct to your browser without you having to visit the website.
In most browsers you can click on an RSS link and choose to subscribe to the feed to add it to your favourites or bookmarks.
---
Lancaster to develop 'Big Data' experts of the future
Story supplied by LU Press Office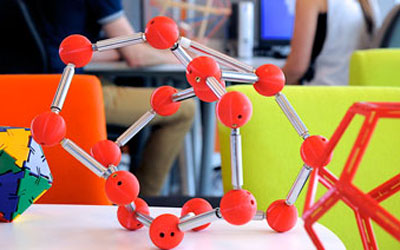 Lancaster University has secured over £500,000 to train a new generation of MSc students in the area of 'Big Data'.
From social trends and spending habits to medical records and climate change, information technology has made it possible to amass vast data sets on almost every sphere of life. But as our ability to collect data increases, these datasets can become so large and complex that they are difficult to manage using traditional processing applications.
Business, industry and the public sector now have an acute need for graduates with skills in data collection, analysis and interpretation. There is now a growing skills gap in this area, both in the UK and overseas, where data analytics, business intelligence and both statistical and computational efficiency are rapidly becoming of vital importance.
Lancaster University will now be able to help plug this emerging skills gap thanks to new funding which is part of a £25 million Higher Education Funding Council for England programme.
Lancaster's Postgraduate Enterprise Academic Partnership (PEAP): Big Data Education Catalyst project will explore how to collect, store and process huge volumes of data across a number of key disciplines. It will also recruit 45 MSc students, starting in 2014.
Dr Chris Edwards of Lancaster University's School of Computing and Communications said: "Engagement with industry will be key to designing bespoke MSc programmes to train future users in the management of Big Data across three key areas; Mathematics and Statistics, Cyber Security and Environmental Science. We will work with businesses, and Small and Medium Sized Enterprises in particular, to produce highly skilled, industry-ready, graduates."
Lancaster University was one of the 19 successful projects selected nationwide for HEFCE support as part of their scheme to ensure the continued success of taught postgraduate education by working with universities and employers to enable participation from students who may not otherwise progress to this level.
This comes after the announcement last week by David Willets that Lancaster was awarded funding for doctoral training by the Engineering and Physical Sciences Research Council to fill the UK's skills gap for highly skilled statisticians, operational researchers, nuclear engineers and specialist physicists.
Lancaster University Vice Chancellor Professor Mark E. Smith said: "This new funding represents a significant investment in post graduate teaching at Lancaster, positioning us among the world leaders in the education of highly qualified people with the relevant skills necessary to make a real impact in the world in fields from big business and engineering to big data and environmental science. This confirms Lancaster's position as one of the research elite universities of UK higher education.
"Combined with our new Centres for Doctoral Training, Lancaster University has secured outstanding investment in this area proving we are trusted to deliver in areas which are absolutely critical to the future of our economy."
Wed 11 December 2013
Tweet