RSS Feeds
RSS feeds can deliver the latest InfoLab21 news and events direct to your browser without you having to visit the website.
In most browsers you can click on an RSS link and choose to subscribe to the feed to add it to your favourites or bookmarks.
---
BlogSpot: What is 'IoT'?
Sarah Cooper
About the author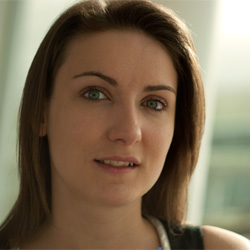 As someone new to the Internet of Things (IoT), Sarah Cooper from Black Zest Solutions talks about how she thinks IoT could soon be impacting our everyday lives and providing new business opportunities.
Imagine a world where everyday objects i.e. a phone, sofa, light switch, lamp post or window; had sensors in them which could communicate to each other and be controlled over the internet! Effectively, mundane things can be made 'intelligent'.
As more and more of the things around us become intelligent with embedded technology, researchers and developers have been looking at ways of using this data to solve problems and benefit society. Data is at the heart of many government policies with IoT, along with 'big data' and 'Smart Cities' being key focus areas.
Looking forward, IoT will change how we think about and interact with our environment, how we access and provide information, and for a growing number of businesses; how we create new differentiated products and service and make money. It will revolutionise the way we live, from creating smart homes, that know when you are cosy on your sofa and dims the lights, to automated street lights which can change based on traffic flow.
The term "Internet of things" seems not to have arrived until 1999, however, the concept was used as early as the 1980s when possibly the first internet appliance was created in a Coke machine at Carnegie Melon University, where programmers could access data to check the status of the machine and check if a cold drink would await them!
So, what is happening in this area at the moment?
I've given a couple of examples below that, to me, show how IoT is changing the way the world works; creating cost savings, efficiency gains and more.
Flood prevention - many of us will have experienced flooding at some point in our lives. Drains (gullies) can get blocked with silt over time which can result in standing water on the road, road closures due to deep water and damage to homes and businesses. Flooding can also cause pot holes and increase road maintenance - all leading to a negative impact on our lives.
A new trial by a UK firm, In Touch, is placing sensors in gullies to feed back information about capacity levels. Rather than cleaning gullies out after they flood, the drains can be cleared just when they need to be. This can save the government money by only cleaning when it needs to be done and ensures drains are not left to flood. This saves time, money and can help protect road users.
In your home - Ever lost your keys? Using sensors and IoT technology means you can locate lost items both in an out of the house. It can be as simple as sticking a sensor to an item you might lose i.e. keys, phone or wallet and then using your phone and the internet to locate them.
Are you always fiddling with the thermostat in your house to get the temperature just right? Only to find a big bill for heating every month? Using new IoT technologies a US company called NEST has enabled control of your thermostat based on usage sensors, weather data and much more, saving many people up to 30% off their household bills.
Government Support - IoT has thousands of far-reaching applications and is about changing the way the world works. The Technology Strategy Board is funding a number of projects to find new and innovative ways of using data to create a better living and working life. Smart Streets is one of those projects.
What do you think are the benefits of IoT? And what questions about it do you have? Please comment below.
Thu 12 December 2013
Tweet