RSS Feeds
RSS feeds can deliver the latest InfoLab21 news and events direct to your browser without you having to visit the website.
In most browsers you can click on an RSS link and choose to subscribe to the feed to add it to your favourites or bookmarks.
---
Getting a Headstart in Computing
Story supplied by LU Press Office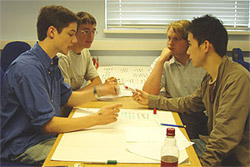 Sixth form pupils will get a taste of student life this summer at a residential computing course. Lancaster University's Headstart programme, which will run from July 11 to 14 2006, is sponsored by Intel Research. It is designed to give year 12 students, who are interested in studying computer science, a preview of university-level education.
Pupils from schools across the country will follow a varied programme of activities including hands-on workshops, informal seminars and a design project.
Activities will focus on the theme of ubiquitous computing. In a ubiquitous system, small computing devices work together to sense, interpret, and respond appropriately to people's actions and changes in the environment. Current, everyday examples of such systems range from climate control for an office building, to a massively multiplayer online game played between users of mobile phones.
Headstart, part of the Royal Academy of Engineering, organises courses throughout Britain for students who are interested in studying science and technology subjects at University. This is the second year that Lancaster University's Department of Computing has run one of the Headstart programmes.
Wed 15 March 2006
Associated Links
Headstart - official information on the headstart scheme
Headstart 2006 - The Computing Department's Headstart site, with pictures and videos of the 2006 event
Tweet