RSS Feeds
RSS feeds can deliver the latest InfoLab21 news and events direct to your browser without you having to visit the website.
In most browsers you can click on an RSS link and choose to subscribe to the feed to add it to your favourites or bookmarks.
---
Computing and Communications PhD Scholarships 2014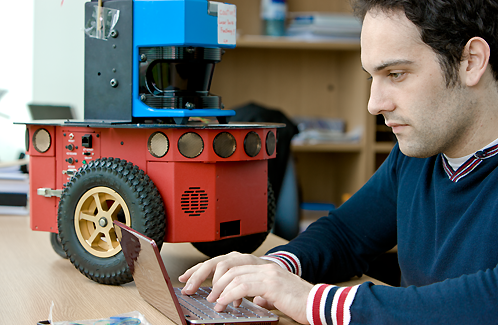 Doctoral Scholarships in Computer Science and Communication Systems, Lancaster University's School of Computing and Communications.
Closing date: 20 May 2014
The School of Computing and Communications has up to 6 Doctoral Scholarships available for exceptional UK, EU and overseas graduates.
The Scholarships provide support for PhD studies for a duration of 3 to 3.5 years and include a waiver of tuition fees (partial fee waiver for overseas students), a student maintenance grant (starting £14,000 per year tax free,
with annual increments) and a training bursary of £800 per year (e.g., for attending summer schools).
Awards will be made on the basis of academic excellence and potential for future achievement as demonstrated by your application and supporting references. In addition, you should consider how the research area you propose is aligned with the research interests of any of our academic staff in the School. You are encouraged to informally contact individual staff to discuss your specific interests, or to seek general advice from the PhD Admissions Tutor on research areas covered in the School.
The closing date for PhD applications to be considered for a scholarship is 20 May 2014. If you are shortlisted, you will be contacted within a week of the application deadline.
We are immensely proud of our postgraduate research community in the School, and of the internationally significant reputation they help us achieve. You will be encouraged to participate fully, targeting and presenting your work at international conferences, and you will have excellent opportunities to collaborate nationally and internationally through our academic partnerships and links with industry.
Apply
Contact information
Dr. Gerald Kotonya, PhD Admissions, scc-phd-enquiries@lancaster.ac.uk
Wed 19 February 2014
Tweet