RSS Feeds
RSS feeds can deliver the latest InfoLab21 news and events direct to your browser without you having to visit the website.
In most browsers you can click on an RSS link and choose to subscribe to the feed to add it to your favourites or bookmarks.
---
Cluster launch to put cyber-criminals on the back foot
Story supplied by LU Press Office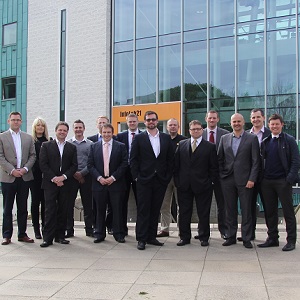 Lancaster University is supporting a cluster of North West firms committed to fighting against cybercrime that have joined forces to highlight the region's technical expertise and raise security standards.
The founding members of the North West Cyber Security Cluster include 11 SMEs with a range of complementary strengths, with support from Lancaster University - an EPSRC-GCHQ Academic Centre of Excellence in Cyber Security Research.
The North West Cyber Security Cluster is one of only a few initiatives of its type in the UK. The group is based on the model for the highly successful Worcestershire-based Malvern Cyber Security Cluster, which was launched in 2011 and now consists of more than 50 SMEs.
The cluster will enable businesses and organisations in the North West, and beyond, to benefit from a pool of experts with skills that can put in place protective measures to reduce the risks posed by cyber security threats.
The cluster is also ideally placed to benefit from the cutting-edge research and development activity of Security Lancaster - Lancaster University's dedicated security research centre.
Dr Daniel Prince, Associate Director of Security Lancaster, said: "The launch of a cyber security cluster for the North West is a significant step for the industry.
"The North West has a concentration of expertise in this field. By pooling resources and knowledge the cluster aims to raise standards across the industry and to provide a first-class service to UK, and international, businesses and organisations to protect them from the ever increasing threat of cybercrime.
"The cluster will also focus on developing a strategy to export our expertise, providing a further boost to our regional economy."
The cluster aims to raise industry standards by establishing a minimum certification level for entry to the group " with the ambition that high quality accreditation becomes the norm for all businesses operating in the cyber security sector.
Stephen Robinson, director of Xyone - a cyber security consultancy based at Lancaster University, and founding member of the North West Cyber Security Cluster, said: "I'm delighted to chair this new cluster group which launches at a time when cybercrime continues to gain momentum.
"Reports state that businesses in the private sector are the biggest single victims of cybercrime and of these, SMEs are the most vulnerable with the average breach costing them between £65,000 and £115,000. This is why the cluster aims to provide a single unified voice for businesses on a regional and national level as well as offering services to protect businesses and offer advice in the event of a breach.
"The Government has pledged its commitment to cyber security with half a million pounds being invested in innovative research and development projects. It also fully supports and recognises the value in economic clusters such as these and how they will form an important part in the fight against cybercrime."
Founding members of the cluster include:
Xyone Cyber Security - Lancaster, Daresbury and Manchester
YR Free -Daresbury, Cheshire
Riskworks - Wilmslow, Cheshire
Encryption Box - Burnley, Lancashire
Concert Networks - Knutsford, Cheshire
SDS Technology - Preston, Lancashire
Active Profile - Liverpool and Manchester
The Networking People - Lancaster
Enterprise Europe North West
Indelible Data - Whitehaven, Cumbria
Receptive Solutions - Bolton, Lancashire
Define X - Dukinfield, Cheshire
Quality Guild - Carlisle, Cumbria
The founding businesses have a range of expertise in a number of the region's key sectors, including transport logistics and the nuclear industry.
Tue 13 May 2014
Tweet