RSS Feeds
RSS feeds can deliver the latest InfoLab21 news and events direct to your browser without you having to visit the website.
In most browsers you can click on an RSS link and choose to subscribe to the feed to add it to your favourites or bookmarks.
---
£5k to develop your digital technology idea to improve student experience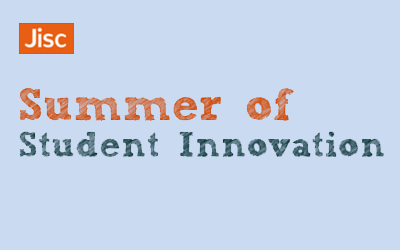 Light bulb moment? Apply by 30 May 2014 for £5k to develop your digital technology idea to improve student life in Summer of Student Innovation 2014.
According to a news release by Jisc, 17 further and higher education (FE and HE) student teams are already registered for this year's Summer of Student Innovation, hoping for the chance to create technology solutions that could change the education landscape forever.
The Summer of Student Innovation is a Jisc co-design programme with RLUK; RUGIT; SCONUL; UCISA and ALT. Successful entrants will receive a £5,000 grant from Jisc to develop their education technology ideas, with the aim of improving students' creative design, research, entrepreneurial and project management skills. The teams will also attend a series of nine innovation workshops between July and September. These events are designed to show off work in progress, offer the opportunity to learn from relevant experts and discuss ideas with other teams.
To enter, students must submit a two to five minute video pitch on the Jisc Elevator website alongside a short summary and a 300-500 word description which includes details on the benefits of their idea and its impact on research and education. To be considered for funding, entrants must hit a target of 250 votes before 30 May 2014. Voting is open to everyone but votes must come from ten different FE and HE institutions.
The winners' ideas will be showcased later this year to FE and HE IT directors, learning technologists and librarians offering them the chance to learn more about the benefits of these newly-developed technologies.
To enter your ideas and encourage your fellow students to vote for your suggestions visit the Jisc Elevator website or follow #studentideas on Twitter.
Who is Jisc?
Jisc offers digital services and solutions for UK education and research. The charity does this to achieve its vision for the UK to be the most digitally advanced education and research nation in the world.
Working together across the higher education, further education and skills sectors, Jisc provides trusted advice and support, reduces sector costs across shared network, digital content, IT services and procurement negotiations, ensuring the sector stays ahead of the game with research and development for the future.
Find out more on the Jisc website
For start up support and advice please contact enterprise@lancaster.ac.uk
Wed 21 May 2014
Tweet