RSS Feeds
RSS feeds can deliver the latest InfoLab21 news and events direct to your browser without you having to visit the website.
In most browsers you can click on an RSS link and choose to subscribe to the feed to add it to your favourites or bookmarks.
---
Innovative Lancaster University technology start-up receives funding boost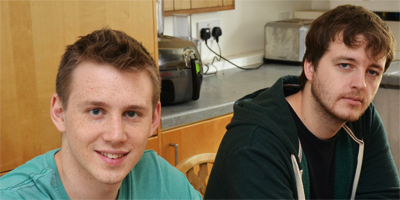 Innovative technology start-up business Hardy & Ellis Inventions Limited are set to offer organisations in Manchester the latest in cutting-edge interactive technology thanks to a Technology Strategy Board grant worth more than £70,000.
The £72,000 prize will allow the company - which has been established by two Lancaster University alumni - to work with Manchester businesses to install spectacular new interactive technology that transforms everyday surfaces and objects into dynamic touch-screen interfaces.
Hardy & Ellis Inventions, based at Lancaster University's InfoLab21, was created to commercialise the high-quality research undertaken by the duo during their time studying at Lancaster University.
The Technology Strategy Board grant is part of the Creative Digital Launchpad funding scheme, which also offers Hardy & Ellis Inventions access to exclusive business networking opportunities and resources.
The pioneering business was founded by Dr John Hardy and Dr Carl Ellis, who specialise in rapid development and have just completed Lancaster University PhDs in sensor deployment, 3D mapping, and computer interactions. They beat stiff competition from 100 other applications during a gruelling three-stage process to be awarded the funding.
The duo are also receiving support through the Design Council to explore new innovative applications for their technologies.
Dr Ellis said: "We are absolutely thrilled to be awarded this grant. Innovation is vital for business growth and we are committed to developing technology that brings together the world of business and research."
"The ease and convenience of touch-screen technology has transformed the design and functionality of mobile phones significantly, and we want to bring this technology to companies in and around the Manchester area to help realise new business opportunities," added Dr Hardy.
Dr Steve Fish, from Lancaster University's School of Computing and Communications, said: "Dr Hardy and Dr Ellis have been involved in cutting-edge research here at Lancaster University and the applications they are bringing to market are highly innovative.
"It is great news that they have been awarded this grant and it will be exciting to see some of the creative ways their technology will be applied over the coming years."
To find out more information about Hardy & Ellis Inventions, visit www.heinventions.com or email enq@heinventions.com
Tue 10 June 2014
Tweet