RSS Feeds
RSS feeds can deliver the latest InfoLab21 news and events direct to your browser without you having to visit the website.
In most browsers you can click on an RSS link and choose to subscribe to the feed to add it to your favourites or bookmarks.
---
SCC Students help teachers inspire the next generation of computer scientists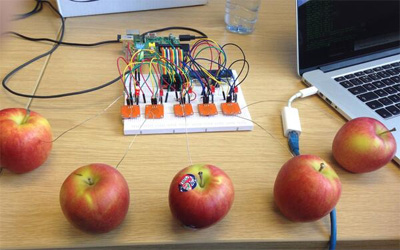 Five teams of undergraduate students from Lancaster University's School of Computing and Communications have developed exciting and creative tools for school teachers to help engage children with computing in the classroom.
September 2014 sees the first step in the roll out of Computing as the new "fourth science" in the national curriculum, with Computer Science principles at its core. Through an intensive one week hackathon held between the 16th and 20th June, the group of Lancaster Computer Science students developed compelling teaching materials to support this change.
At the beginning of the week Roger Davies, IT Teacher at Queen Elizabeth School Kirkby Lonsdale, set the brief, and advised the participants on the challenges of teaching Computing from a school teacher's perspective. The teams then conceived and developed their own projects, ordered equipment, and produced software, teaching materials and demos in a single week. On the Friday, academics teamed up with researchers, industrialists and teachers from local schools to judge the demos.
Top Prize of £1000
The top prize of £1000 went to team "Byte Me" which was made up of four first year students: William Jardine, Elliot Wright, Nick Ingram and Gulam Zulmie. The "Byte Me" demo project was a musical computer game where children could connect fruit to a Raspberry Pi computer and play a "piano" with the fruit! Combining programming with open hardware prototyping, this playful tool can be used to introduce and enthuse children about their first computer programs, demystify the fundamentals of computer input/output.
IT Teacher Helen Catterall from Archbishop Temple School in Preston took part in the judging and said,
"There is a lot of scope to use the Byte Me tool to teach at many levels of ability and as it is written in Python it is compatible with Schools. Having the web instructions to follow, with videos to help lower level abilities to build this is an excellent addition."
Dr Jason Alexander, a lecturer on Human-Computer Interaction at the School of Computing and Communications added,
"This was an excellent demo and I think children would really engage with it. It had excellent quality materials and adaptability."
Student William Jardine from the winning team said;
"We thought this was an interesting, fun and different way to wrap up our first year of Computer Science (and of course £1000 is always welcome)! It was a challenging experience to try and come up with a unique(ish) project, think of how we'd approach it, order the kit, put it all together and work out the bugs in essentially 3 days, but definitely worth it!
"It's such a confidence boost for us - as a team of 4 first years - to win a competition that ranged across first, second and third year students! I'd definitely recommend taking part next year - I know we plan to again! Big thanks to Angie Chandler and Joe Finney for organising such a great contest!"
Runners up were 3rd year students Antreas Antoniou and Aristotelis Charalambous with "Robuino" a 2 wheel Arduino based robot. In third place were David Dixon, Uri Povov and Joshua Prendergast with "Segmentation Fault", a graphical puzzle game written to convey the principles of efficient sorting algorithms.
Dr Joe Finney, Senior Lecturer in the School of Computing and Communications, who helped run the event, said,
"The Hackathon followed on from our "Think Computing!" day in March which engaged over forty Computing and IT teachers to investigate ways we can support them in the classroom. This Hackathon has been an excellent example of the ways our students and the Faculty of Science and Technology are supporting schools to deliver pioneering and motivational lessons in Computing, to instil Computer Science as one of the 4 main science subjects in schools.
"I, along with many staff in SCC, was highly impressed with the work of all the students that entered the Hackathon. All the contributions from the week will feed into our Schools Outreach Programme, and we will be working with our growing network of schools and teachers to take advantage of all the hard work from our students."
The event was supported by the School of Computing and Communications, Faculty of Science and Technology, and the UK Computing At School initiative, - an organisation that promotes and supports the teaching of Computer Science in UK schools and whose aim is 'to put the excitement back into computing at school'.
Tue 08 July 2014
Tweet