RSS Feeds
RSS feeds can deliver the latest InfoLab21 news and events direct to your browser without you having to visit the website.
In most browsers you can click on an RSS link and choose to subscribe to the feed to add it to your favourites or bookmarks.
---
Armenian Scientists Visit Lancaster's Experts in Secure Communications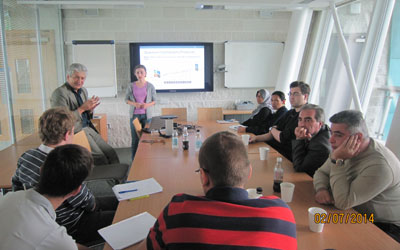 Last week three Scientists from the Armenian Academy of Sciences visited the School of Computing and Communications to learn about our expertise and experience in ICT, particularly in the area of secure communications.
The visit was organized by the National Academy of Sciences, of which the School's Professor Garik Markarian is a Fellow.
The group of scientists also attended a joint seminar with Lancaster's Physics Department, dedicated to quantum cryptography, a quickly developing discipline of Physics which is of increasing importance in the current technological age when broadcasting network communications which may transmit sensitive information related to finances, politics, business and private confidential matters.
A presentation from one of the visitors Anahit Gogyan, Scientific Secretary of the Institute for Physical Research of the National Academy of Sciences of Armenia, attracted great interest from Lancaster's Dr Robert Young and his PhD students from the Physics department who research in the area of Quantum Cryptography. After the talk Dr. Young presented their facilities and latest work.
Prof. Garik Markarian said,
"Visits such as these are a great way to strengthen Lancaster's relationships with international researchers. The visit also brought the opportunity to discuss numerous joint funding possibilities in the area of secure communications and it has been agreed to submit a joint proposal for the EU HORIZON 2020 programme. Lancaster researchers have also been invited by the visitors to attend the International Symposium they are organizing around this subject."
Thu 17 July 2014
Tweet