RSS Feeds
RSS feeds can deliver the latest InfoLab21 news and events direct to your browser without you having to visit the website.
In most browsers you can click on an RSS link and choose to subscribe to the feed to add it to your favourites or bookmarks.
---
Lancaster University cyber security course is certified by UK's national intelligence agency
Story supplied by LU Press Office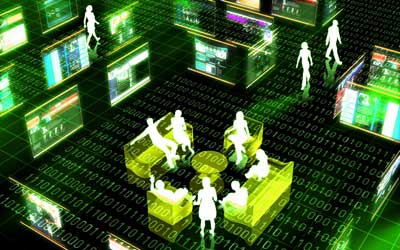 A Lancaster University course that is helping to produce the crime fighters of the digital age has received a seal of approval by the UK's national security and intelligence agency - GCHQ.
Lancaster University's MSc in Cyber Security, which is delivered by experts from the Security Lancaster research centre, is one of only four Masters degree courses delivered by UK universities to receive a newly launched 'Full Certification' status by GCHQ.
Announced by Francis Maude, Minister for the Cabinet Office, the certification reflects the agency's approval of the high standards and abilities with which Lancaster University is equipping its graduates as they help to plug the large skills gap in the ongoing battle against cyber criminals that are costing the economy billions.
Professor Awais Rashid, director of Security Lancaster, said: "Government recognises that robust cyber security is essential for the UK to prosper in the digital age.
"At the moment there is a significant skills gap with demand for talented people equipped with the necessary cyber security skills being outstripped by supply. Centres of excellence like Security Lancaster are working hard to help equip our students with those sought-after and increasingly important skills to help meet the cyber security needs of business, industry and the society-at-large.
"We are happy our Masters in Cyber Security has received this certification as part of a rigorous national assessment and we are sure this measure will also help employers to identify the best graduates with the necessary skills."
The GCHQ certification reflects the aims of the National Cyber Security Programme, UK Government and its delivery partners, to increase the UK's academic capability in all fields of cyber security.
Lancaster University's Security Lancaster is an EPSRC-GCHQ Academic Centre of Excellence in Cyber Security Research. GCHQ, which has identified establishing a network of cyber security centres of excellence as a strategic priority, has indicated that delivering certified Masters qualifications is likely to be a prerequisite for future centre of excellence status in cyber security education for universities.
Francis Maude, Minister for the Cabinet Office, said: "Cyber security is a crucial part of this government's long term plan for the British economy. We want to make the UK one of the safest places in the world to do business online. Through the excellent work of GCHQ, in partnership with other government departments, the private sector and academia, we are able to counter threats and ensure together we are stronger and more aware."
Chris Ensor, Deputy Director for the National Technical Authority for Information Assurance at GCHQ, said: "As the National Technical Authority for Information Assurance, GCHQ recognises the critical role academia plays in developing the UK's skill and knowledge base.
"I'd like to congratulate the universities which have been recognised as offering a Master's degree which covers the broad range of subjects that underpin a good understanding of Cyber Security."
According to a report from security company McAfee cybercrime costs the global economy £266 billion annually. A 2011 Government report estimated the cost to the UK economy to be around £27 billion a year.
An independent report commissioned by Lancaster University estimated that cybercrime costs key sector businesses in North West England almost £107 million a year.
Emphasising the importance the certification brings to industry Mark Hughes, President of BT Security, said: "At BT we are acutely aware of the impact of the UK cyber skills gap and recruiting the right people with the right knowledge and skills is a big deal for us.
"As a leading Internet service provider we want to employ the very best. That is why we welcome GCHQ's certification of Master's degrees in Cyber Security. The fact that GCHQ recognises these courses as high calibre gives us, at BT, the confidence that those graduating with a Master's from one of these universities will have the sound knowledge base in cyber security that we would be looking for. This is a great step forward in developing the cyber specialist of tomorrow."
Other universities to have received full certification from GCHQ are Edinburgh Napier University, University of Oxford and Royal Holloway, University of London.
Cranfield University and University of Surrey received provisional certification.
More information about Security Lancaster is available by visiting www.security-centre.lancs.ac.uk
Information about Lancaster University's MSc in Cyber Security is available by visiting www.scc.lancs.ac.uk/masters/CyberSecurity
Thu 07 August 2014
Tweet