RSS Feeds
RSS feeds can deliver the latest InfoLab21 news and events direct to your browser without you having to visit the website.
In most browsers you can click on an RSS link and choose to subscribe to the feed to add it to your favourites or bookmarks.
---
InfoLab21 Company's key role in delivering the worlds largest annual sporting event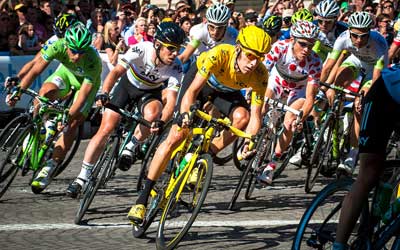 A resident company of InfoLab21, Gaist Solutions, provided the software management system that was used to support the organisation, delivery and incident management for the Tour de France, Grande Depart.
Those behind the scenes of the Tour de France know just how challenging the delivery of the race was and how critical live information feeds between agencies became. This was by far the largest event of its type ever staged in the UK and had massive global exposure, it simply had to go right.
Gaist worked with the event managers to produce the critical information infrastructure needed to coordinate the mammoth number of tasks that all agencies were responsible for. During the race the same technology was used to coordinate the response to over 1200 incidents during stages one and two.
The Tour de France completed two stages in the glorious countryside of Yorkshire to massive international acclaim having been hosted flawless and showcasing just how much style Britain can add to large events. Even the weather was good!
Steve Birdsall, Managing Director of Gaist Solutions says "I just want to say how proud I am of the team we have at Gaist for the perfect execution of such a challenging project. Also a big well done to the TdFHUB team for an awesome delivery of stages 1 & 2. It was incredibly exciting to be involved in one of the worlds most high profile international events. To be trusted with such a key role was a huge honour for us and has put Gaist on the map".
Gaist first based part of the company at InfoLab21 in April 2013 and are basing the whole company here from August 2014.
Wed 16 July 2014
Tweet