RSS Feeds
RSS feeds can deliver the latest InfoLab21 news and events direct to your browser without you having to visit the website.
In most browsers you can click on an RSS link and choose to subscribe to the feed to add it to your favourites or bookmarks.
---
InfoLab21 based marketing agency offers boosts to local businesses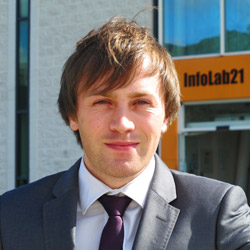 InfoLab21 based digital marketing agency SEO 24/7 has launched an initiative aiming to boost growth in other local businesses.
Britain is home to around 4.9 million registered private sector businesses, but over 75% of these are one-person companies. As a marketing agency, SEO 24/7 has always aimed to enable the growth of its clients, but it now hopes to go further than ever by providing additional resources to local SMEs, in particular those who see digital marketing as part of their growth plan.
The company has a range of special offers for local businesses who are looking to begin or increase their expansion efforts. These include £150 of matched spend in the launching month of a Google Adwords campaign, 5% off award winning PPC and SEO account management services, free website audits, and valuable advice to clients on how to access other available resources, such as Government funding opportunities.
Founder and MD Aaron Crewe is a Non-Executive Director of the Lancaster Chamber of Commerce and an affiliate of the Chartered Institute of Marketing, as well as having lead collaborations between his company and Lancaster University, the Technology Strategy Board, and others.
"We are trying to encourage our clients, and help them to access schemes such as the Government's £2,000 Growth Vouchers, the Chamber of Commerce's free workshops and training days, research funding through the TSB, the Boost Business scheme, and all the other resources that are available to SMEs in the UK. Knowing what's out there, who's eligible, and how to apply really is half the battle," says Aaron. "The Growth Vouchers in particular have broad eligibility criteria and are £2,000 which be used for a variety of applications, including marketing."
For more information please call 01524 510570 to speak to Aaron Crewe, or email info@seo247.co.uk – further information about the company can be found at www.seo247.co.uk
Thu 18 September 2014
Tweet