RSS Feeds
RSS feeds can deliver the latest InfoLab21 news and events direct to your browser without you having to visit the website.
In most browsers you can click on an RSS link and choose to subscribe to the feed to add it to your favourites or bookmarks.
---
InfoLab21 Company to Create Jobs
Story supplied by LU Press Office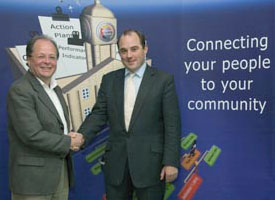 Escendency, an award-winning communications company based in InfoLab21, is planning to take its innovative product nationwide in a major expansion. The company specialises in web-based management systems and has already won contracts with four local councils including Lancaster City Council.
Escendency recently reached the regional finals of the National Business Awards for Business Innovation of the Year. Mark Robinson, CEO of Escendency, said he was now planning to expand nationwide and triple the current workforce of three.
He said: "Moving into Infolab21 has been an enormous help and we've never looked back. Now we want to replicate our success across the country with any public sector organisation in health, education or the police, even central government.
"This means we'll easily be doubling or tripling the workforce and these will be all local jobs and high quality graduate jobs too."
The Escendency System enables an organisation to translate high-level strategic objectives into measurable targets and provides managers, employees and members of the public with up-to-date information which is held on one central database rather than dispersed across different departments.
Richard Tulej, Head of Lancaster City Council's Corporate Strategy Service, said: "We, as an authority, are constantly being challenged to demonstrate that we are able to deliver value for money, customer-focused services, use our resources effectively and at the same time deliver efficiency savings through continuous improvement.
"It was very clear to me that the Escendency Performance Management system would change the Council's whole approach to monitoring and managing its performance and is exceeding all our expectations."
Mark Robinson said: "The key point of the Escendency System is that it is people-centred. It takes the vision of an organisation and shares that vision with everybody."
Fri 14 July 2006
Tweet