RSS Feeds
RSS feeds can deliver the latest InfoLab21 news and events direct to your browser without you having to visit the website.
In most browsers you can click on an RSS link and choose to subscribe to the feed to add it to your favourites or bookmarks.
---
Headstart 2006 at Lancaster University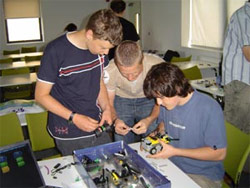 From the 11th to the 14th of July, the Computing department held a Headstart course, in which year 12 students receive an insight into courses and life at university. lecturers from Computing and Communication Systems led seminars and workshops themed around ubiquitous computing, with tasks ranging from programming robots to creating mobile applications.
Headstart courses are designed to give prospective students the opportunitiy to explore potential skills they can gain and develop by coming to university. The department aimed to make the experience "an enjoyable and worthwhile learning experience: both in engineering and computing skills; but also as a university culture".
It was important for the university and computing department to not only highlight the type of activities and information the students will learn if they decide to further prolong their studies at university, but to also show them the way of life at a university. Among other activities during their stay, the students paid a visit to the university's on site sports centre to unwind.
During the headstart course, the students were given a number of lectures and tutorials on ubiquitous computing by Dr Mike Hazas and mobile phone application development by Dr Paul Coulton.
Also during their stay, the students were put into teams and undertook a design project, with them having to design and implement a robot which was capable of pushing empty cans from an arena and also force other robots out of the arena.
On the final day, the students made a presentation to their fellow colleagues showing off their respective robots. The robots were then placed in the "arena", a section of carpeting cordoned off by masking tape, and pitted against each other.
After all the can moving and fighting had finished, the competition was judged by Professors Gordon Blair, Hans Gellersen and Dr Mike Hazas. In the end, it was decided that the winner was team "Carl", with the four winning team members each receiving a 2gb iPod Nano.
A student given an award for continued enthusiastic participation in all of the academic work done in the four days at the university was also given a 2gb iPod Nano.
Fri 21 July 2006
Associated Links
Headstart - official information on the headstart scheme
Headstart 2006 - The Computing Department's Headstart site, with pictures and videos of the 2006 event
Tweet