RSS Feeds
RSS feeds can deliver the latest InfoLab21 news and events direct to your browser without you having to visit the website.
In most browsers you can click on an RSS link and choose to subscribe to the feed to add it to your favourites or bookmarks.
---
InfoLab21 Demonstrator Project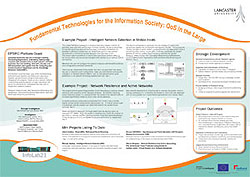 InfoLab21 Demonstrator Project is a cross-departmental funded project coordinated by the KBC with Lina Fagoonee, Jim Wild, Gerd Kortuem, Simon Lock, Andreas Mauthe and Reuben Edwards.
There will be a series of posters around the KBC wing, explaining InfoLab21 research projects and providing information about the KBC resident businesses and a series of short films about InfoLab21 research projects via a plasma screen in reception.
The first poster has been completed. See image or to view a larger version see http://www.infolab21.lancs.ac.uk/docs/poster
Many thanks to Michael Mackay and David Hutchison for their co-operation.
If you would like to contribute to the poster display, please contact project coordinator, Amanda Ross.a.ross@lancaster.ac.uk
Wed 02 August 2006
Tweet